When in Aureo La Union, where do you eat? Well, there are actually a lot of establishments in the area. Around 1km away from Aureo is Max's and Yellow Cab Pizza. A bit further are Jollibee and Chowking. But we were in vacation mode during our stay and we didn't feel like driving out for meals. We decided to just eat at the Aureo La Union Restaurant, which was maybe 10-12 steps away from our room.
So this is the Aureo La Union Restaurant. This is the only place you can sit down and eat in the resort. Oh but they have room service! The best part is, room service prices are exactly the same as the dine-in prices and there are no exorbitant service fees. That said, we were eating practically all the time. Breakfast, lunch, merienda, dinner, and even midnight snack. Our teenage kids are always hungry.
On our first night at Aureo La Union, there was a Chinese New Year buffet. The rate was P799 per person. Kids below 10 eat for free. Since we had already spent over 6 hours on the road that day, we decided no more driving. We just went for the buffet. Anyway the Aureo La Union Restaurant is bright, spacious, and quite airy since it's beside the sea (al fresco, no aircon).
There was a decent selection of Chinese food. You also get a free drink of your choice.
There was Yang Chow Fried Rice…
…Mussels…
I think this was Salt and Pepper Mixed Seafood. A lot of the dishes didn't have names lol. There were also Cold Cuts, Braised Black Mushrooms, Fried Wontons, Spring Roll, Egg Drop Soup…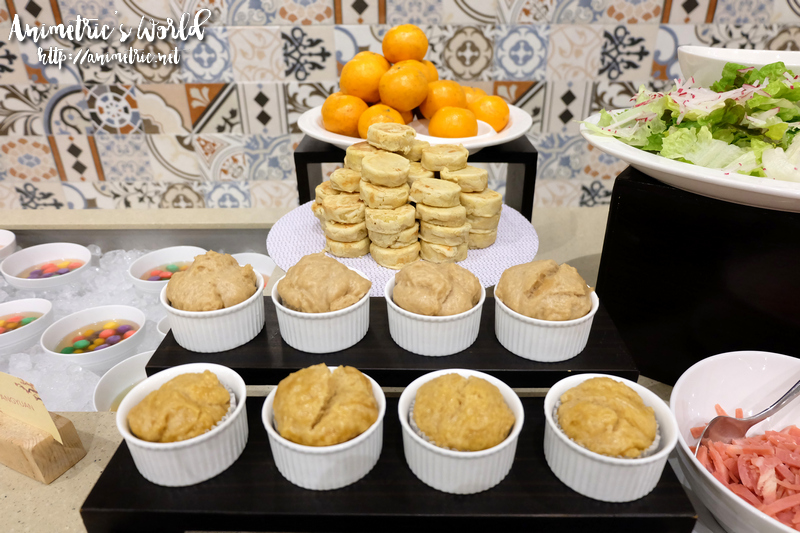 Hopia and Huat Keh (Steamed Chinese New Year Cake).
I liked this dessert, it's kind of like mochi in cold ginger water. I loved the chewy sticky rice balls. Although there weren't too many dishes, the buffet food was surprisingly good. A bit pricey but okay considering we're tucked away somewhere near the sea far from the city.
Our room came with free breakfast buffet for 2 so we returned to the Aureo La Union Restaurant the next morning. This time we got a table facing the sea. The rate for the breakfast buffet is a little over P300 per person while kids below 10 eat for free.
The restaurant is located on the beachfront so there's a really nice view.
Breakfast is Filipino-themed. There's plain rice, garlic rice, and viands like tapa, tocino, scrambled eggs, and sausages. If you prefer bread, they have some you can toast.
The star of our first breakfast in Aureo was the bangus (milkfish).
We had the breakfast buffet again the next day and there was a slight change in menu. They had danggit instead of bangus and longganisa instead of sausages. There was still tapa. This time they had Arroz Caldo too. Both days they had fried tikoy since it was the Chinese New Year weekend.
The breakfast buffet was average, except for the tapa which was really bad. It's tough, full of litid, and hard to bite or chew. Coffee, tea, and/or juice is included in the breakfast buffet.
For lunch, we'd order ala carte at the Aureo La Union Restaurant. This is the Seafood Marinara (P390) which my daughter had.
I ordered Pan Fried Prawns in Lemon Butter (P380) and got these um… Spicy Prawns(?) instead. The menu described the prawns as cooked in lemon, butter, garlic, and parsley. There was no trace of lemon or butter. Not complaining though because nowhere in Metro Manila can you get 5 humongous prawns with rice for only P380. It was quite good, in fact hubby regretted not ordering this haha.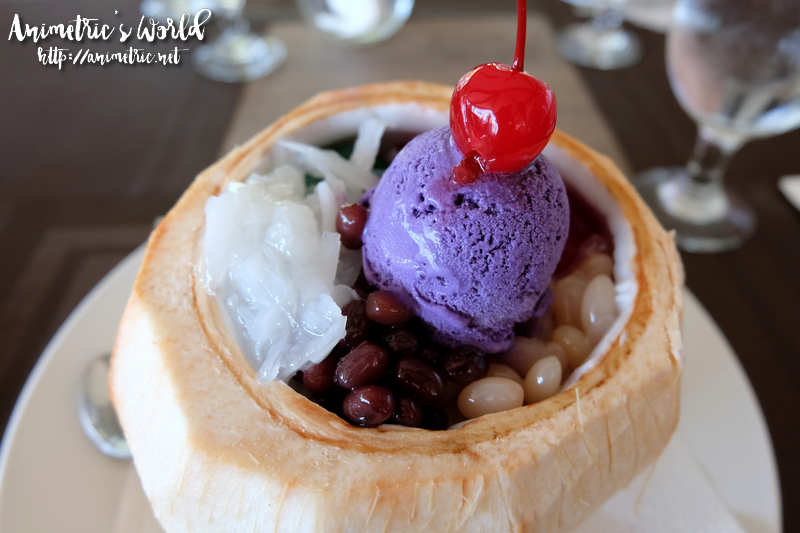 For dessert, we ordered Halo-Halo (P280). It was served in a coconut shell and you could actually eat the coconut meat on the shell. Although I don't have pictures, I highly recommend their Club Sandwich (P280) and Aureo Burger (P320) which we'd have for merienda. They're huge and filling, perfect for ravenous teenagers. I love the freshly cooked Potato Chips all their sandwiches are served with too.
Food at the Aureo La Union Restaurant is quite good in general. Serving portions are nice and satisfying too. We had beers and bar chow brought to our room at night and the bar chow (Fries, Calamares, Chicken Poppers, etc) cost only P100+ per order. Love that there's no extra charge for room service. Well worth trying while you're there.
Aureo La Union
Luzon 2500, San Fernando, La Union, Philippines
+63 2 893-1111
+63 917-8225799
http://www.aureohotels.com
Like this post? Subscribe to this blog by clicking HERE.
Let's stay connected: