Okay so the actual product name is The Golden Duck Gourmet Salted Egg Yolk Potato Crisps (phew!). Here's a bit of history. The Salted Egg Potato Chips craze started in Singapore. There are 2 popular brands: Irvin's and The Golden Duck. I've tried both. Before Irvin's became officially available in the Philippines, I bought from an online seller. One big bag cost me around P700+. I found the flavor too strong and I got a heartburn after a few pieces. Now I thought I may be getting too old for it so I passed the big bag on to my kids.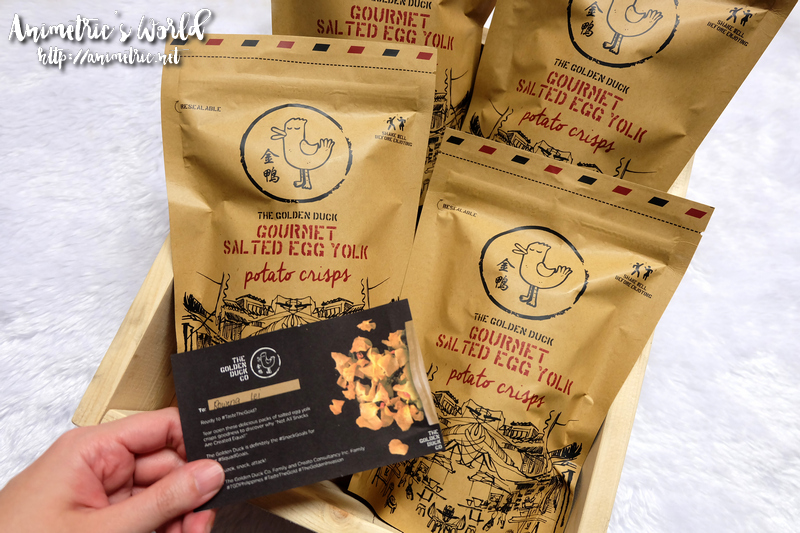 I've also tried The Golden Duck prior to them sending me this package… I just didn't post about my experience. Now there's no reason not to as I have enough material for a decent product photo. One bag would've looked pathetic lol.
The Golden Duck Salted Egg Chips are not what you expect. Where Irvin's is crunchy, theirs are a bit soft — like home fried potato chips. They're seasoned with generous amounts of salted egg yolk then spiked with chili and curry leaves.
I've tasted salted egg chips from several local purveyors. Some of them simply use plain salted chips from Lay's or Oishi or some other brand and then season with Knorr Salted Egg Powder. If you've tried those, you'll taste the difference when you try The Golden Duck.
The potato chips have a slightly crisp yet chewy texture. Potato realness (yes I've been watching too much Rupaul's Drag Race).
Irvins or The Golden Duck? Honestly, I find Irvin's flavor profile overwhelming… plus I always get a heartburn from eating a couple of pieces. So for me, it's The Golden Duck. I still limit my consumption to a 3-4 pieces at a time though. I usually leave the packs in the kids' room. Their hyper metabolisms can burn these off in a jiffy.
The Golden Duck Salted Egg Chips sells for P360 per 125 gram bag. They also have Salted Egg Fish Skin which I got a chance to sample at their mall kiosk. It's always out of stock and I'm not surprised. The fish skin isn't malansa at all… surprisingly good even — and that's coming from someone who thinks fish skin is gross.
The Golden Duck Salted Egg Chips are available at kiosks in UP Town Center, The Podium, Promenade Greenhills, Alabang Town Center, Powerplant Mall, and Robinsons Magnolia. You may also purchase at S&R Branches nationwide.
Like this post? Subscribe to this blog by clicking HERE.
Let's stay connected: