I've always loved bread. Whenever I go abroad, I always go to a bakery and check out breads and pastries. Now for me one of the best countries for bread is Japan. My gosh, I love Japanese baked goodies! Even something as simple as white bread from a convenience store is soooo good! I miss Japan so much, it's the one country I never get tired of no matter how many times I visit. But I bring good news… now we can all have a little taste of Japan via the Gold Series by Fuwa Fuwa.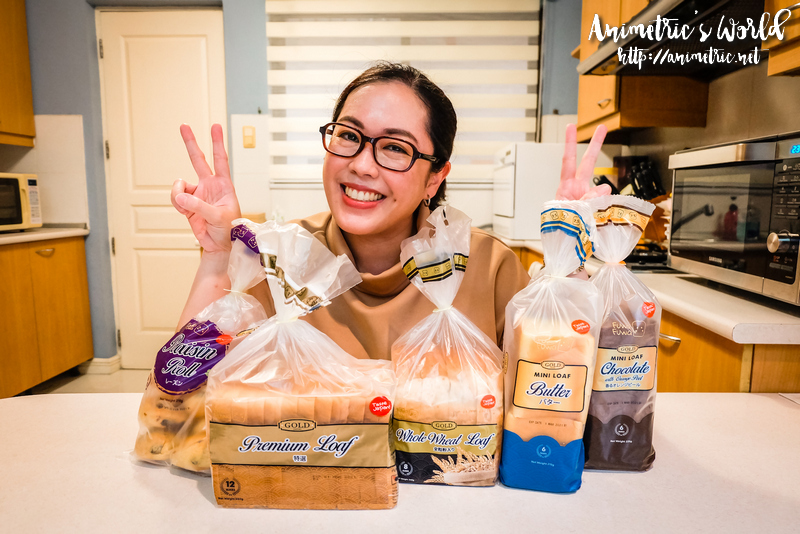 The Gold Series by Fuwa Fuwa comes in 4 variants — Premium Loaf (P58 for 366g / P82 for 550g), Whole Wheat Loaf (P68), Mini Loaf in Butter (P72) and Chocolate with Orange Peel (P76), and Raisin Rolls (P76). All the Gold Series by Fuwa Fuwa breads all come in sealed and enclosed packaging to retain the freshly baked goodness when it gets to your home.
I love the Premium Loaf. I usually just toast it and pat on some butter, it's already good to go! It smells so heavenly and each bite is just wow. Sometimes I put jam, other times I just eat it straight out of the bag.
For the more health conscious set, there's a Whole Wheat Loaf which is higer in fiber compared to regular bread. In my experience, whole wheat bread is usually on the dry side… and they're not very soft. The Gold Series by Fuwa Fuwa gives you the trademark Japanese soft and fluffy feels in their Whole Wheat Loaf. Pretty amazing, really.
The Mini Loaf is an indulgence in itself with flavors like Butter and Chocolate with Orange Peel. These are great for merienda or even dessert! Each thick slice is incredibly soft, fluffy, and fragrant. You really don't need anything else.
The Raisin Roll is a favorite of mine. I don't think I've ever had Raisin Rolls this good. Soft, moist, and chewy with just the right amount of raisins. These pair so well with a piping hot cup of coffee.
All these breads are created with the finest quality Japanese ingredients, showcasing the Japanese baking expertise and offering bread lovers a taste of premium Japanese bread.
The Gold Series by Fuwa Fuwa is available in these select groceries and supermarkets: Robinsons Supermarket, Landmark, Cash & Carry, Makati Supermarket, Unimart Capitol Commons, Unimart Greenhills, Shopwise, and The Marketplace, Waltermart Makati, Waltermart Pasay, Pioneer Centre, South Supermarkets and Fisher Supermarket. I've also seen some loaves in S&R Membership Shopping.
Would you like you like to taste all of these lovely new breads? You can win a gift bag filled with Gold Series by Fuwa Fuwa breads and merchandise!
How to join? Just like the new Gold Series by Fuwa Fuwa FB at https://www.facebook.com/FuwaFuwaGold and follow @fuwafuwagold on IG. Post a creative selfie of you holding or enjoying Gold Series by Fuwa Fuwa. Use the hashtag #HuntForTheGold and tag @fuwafuwagold on your post. NPB and its affiliates are not allowed to join.
Five (5) winners will be announced monthly until May 2021 so join now! 😀
Like this post? Subscribe to this blog by clicking HERE.
Let's stay connected: