Woohooo! According to my IG account, my first attempt at cooking dinner took place August 10, 2016. It's August 21 today and so that means I have been cooking meals at home for over a year! Even with the return of the all-around helper who used to do the cooking (she came back last January while our yaya retired in April) , I'm still the one who's in charge of what we eat.
I often use canned tuna for pasta dishes. When I saw Gold Seas Tuna Chunks popping all over my FB, I got curious. The colorful packaging caught my eye and I was looking for a better alternative. I wasn't all that satisfied by the brands I had been using. I actually bought a couple of cans from the grocery before I got this package.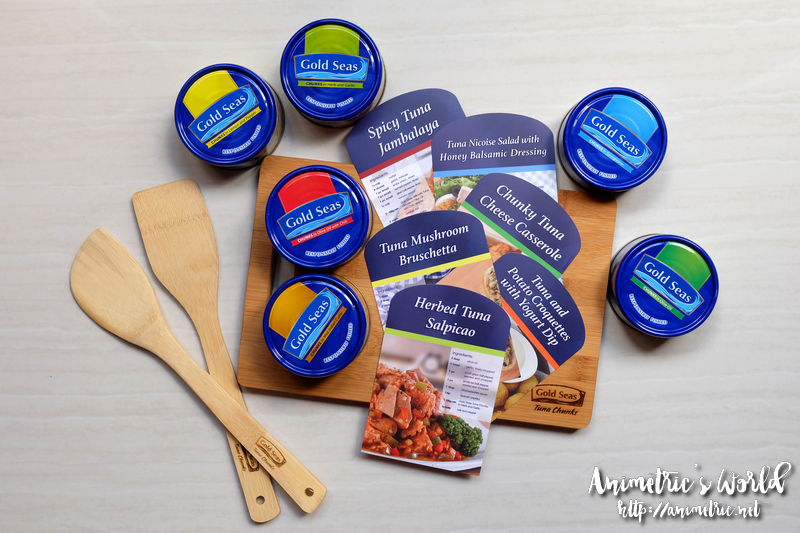 So I got all the Gold Seas Tuna Chunks variants with matching recipe cards. There are 6 variants:
Herb and Garlic
Lemon and Pepper
Mild Indian Curry
Olive Oil
Olive Oil with Chili
Springwater
Only my daughter and I were home last Saturday so I decided to try making Herbed Tuna Salpicao to go with steamed rice. This recipe makes use of Gold Seas Tuna Chunks in Herb and Garlic. It's really easy to make — you just need olive oil, bell peppers, worcestershire sauce, and paprika. Salt and pepper are optional depending on your taste. You pretty much just saute everything together in a pan.
Gold Seas Tuna Chunks come in easy open cans so there's no need for a can opener.
I made instant ulam in 15 minutes. It went really well with steamed rice. My daughter said it was yummy! It's already very flavorful as is so I don't suggest adding any more salt. Pepper is fine if you want a bit more kick.
I'm very happy with Gold Seas Tuna Chunks and I can't wait to try the other variants! I'll probably use this in a pasta dish one of these days.
Gold Seas Tuna Chunks are available at P61+ per 185g can at all leading supermarkets nationwide.
Like this post? Subscribe to this blog by clicking HERE.
Let's stay connected: