It seems going meat-free is the rage these days. Even fast food joints are coming out with plant-based burgers. But what if I told you that you can easily go plant-based at home? That's where Purefoods Veega Meat-Free comes in. This is Purefoods' relatively new line made from protein ingredients like soy and mushroom. With Veega, you can get your protein without worrying about the cholesterol.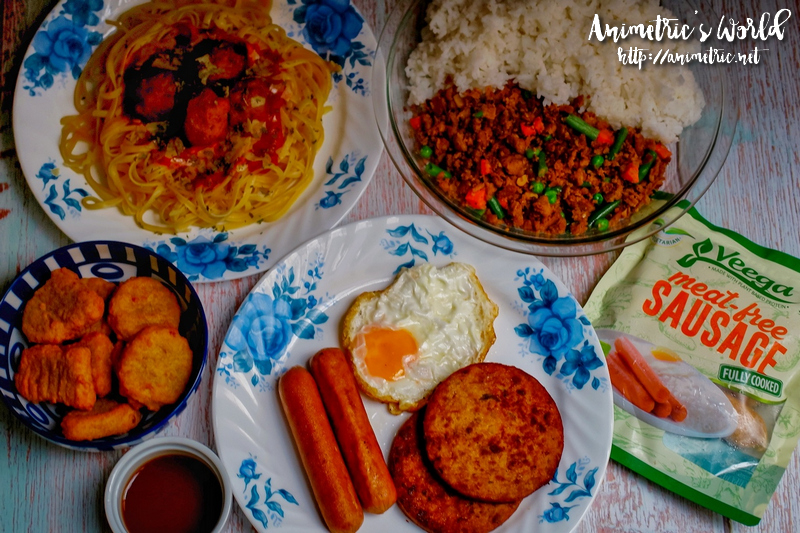 At the moment, there are five (5) products in the Purefoods Veega Meat-Free line: Sausage (P120), Burger Patty (P99), Giniling (P99), Nuggets (P115), and Balls (P99).
Okay so we tried everything at home. The kids and I agree that the Nuggets actually do taste like chicken nuggets. Crunchy outside and tender inside, they go really well with BBQ sauce (not included).
We also really loved the Sausage. It has a nice smoky flavor and it did feel like we were chewing on a meaty hotdog. The burger patty was okay… but you won't be fooled into thinking it's meat, unlike the Nuggets and Sausage which can both pass for meat.
Then there's the Meatballs. These are actually already seasoned so you can eat them as ulam but I thought they'd be better served on top of pasta.
They're nice and juicy although I didn't think they tasted like meat lol.
The Giniling is also fully seasoned. All you need to do is saute. I just added some mixed veggies for more color (string beans, corn kernels, peas, carrots) and texture. For me this tasted kind of like mushroom but it was pretty okay.
Overall, these are pretty good and reasonably priced at P99 to P120 per pack. My daughter said they don't really taste that much different from their meat counterparts.
Purefoods Veega Meat-Free products are now available at leading supermarkets nationwide. Don't want to go out? You can also order from the San Miguel Foods Frozen & Chilled Flagship Store on Lazada.
Like this post? Subscribe to this blog by clicking HERE.
Let's stay connected: