Getting older means having to compensate for more and more um… deficiencies. My hubby always says our bodies are like machines. The older we get, the more parts tend to fail. It's really sad when you think about it.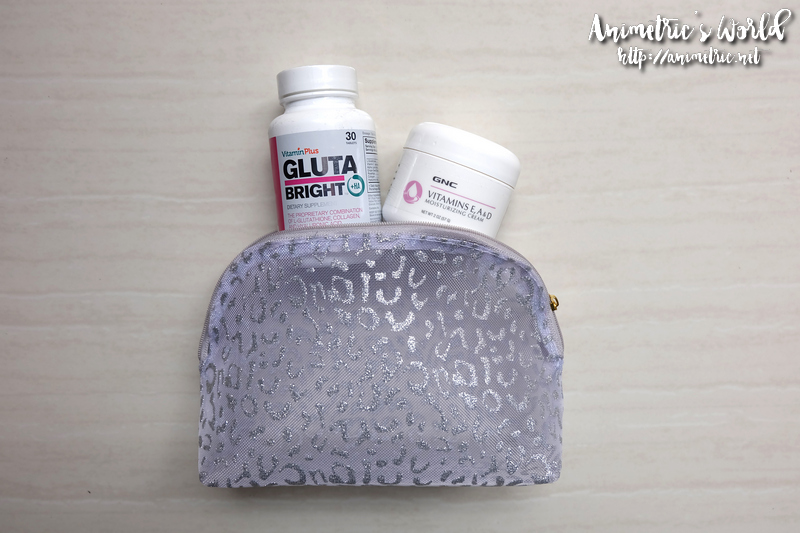 I used to not give supplements a second glance, save for Vitamin C which I take when I'm feeling under the weather… or when I'm sick. The reality of aging though and the entire concept of our bodies being like machines has made me more concerned with maintenance. How timely that I got some health and beauty goodies from GNC care of Sample Room!
Did someone say supplements? I was immediately intrigued by the VitaminPlus GlutaBright +HA (P2,499). I mean, I don't need to whiten my skin (that's what everyone thinks glutathione is for) but VitaminPus GlutaBright HA+ promises to help fight signs of aging aside from giving you fairer and brighter-looking skin. This dietary supplement keeps skin supple and firm. It's formulated with 500mg of L-Glutathione, 50mg of Collagen, and 20mg of Hyaluronic Acid. All of these are premiere anti-aging ingredients which can also be found in the topical skincare products I use. I don't want my skin to be all saggy and wrinkly so I think I need this.
You're supposed to take one tablet a day, so one bottle (30 tablets) lasts for around a month. I'm going to need a bit more time to determine how this will work on me, but I've started taking it already. I'm quite confident because after all, it is from GNC, a reputable international brand that I trust. I've had some experience with GNC products in the past and so far so good. If I look even younger after a month I can attribute it to VitaminPlus GlutaBright HA+ lol!
They also threw in a jar of GNC Vitamins E, A, and D Moisturizing Cream. I don't know how much it costs but it has been getting really good reviews over at Amazon.com.
It's not hard to see why people have been raving about it. It's super lightweight yet highly moisturizing. It spreads easily and is absorbed by the skin quickly. It leaves no greasy residue and is relatively fragrance-free. Lovely, just lovely. I want to use it all over especially now that the -ber months are coming and my skin is getting drier than usual.
Want to try GNC VitaminPlus GlutaBright HA+ before you commit to buying the entire bottle? You can grab a 4-tablet sampler pack at Sample Room for free! Each tablet costs approximately P83+ so the pack is worth P300+.
If you want to buy a full-sized bottle of VitaminPlus Glutabright +HA, just present the sampler from Sample Room to get 25% OFF on your purchase at all GNC Stores nationwide. It will come out to P1,874.25 — P600+ off the SRP!
Like this post? Subscribe to this blog by clicking HERE.
Let's stay connected: