I've always wanted to try Glossier Cloud Paint. It's Facebook's fault. I kept seeing the Glossier Cloud Paint ad some time ago and I was convinced to buy. I wanted it so badly that I was scammed by an IG seller into buying fakes. After that fiasco, I just ordered from the official Glossier website and had it delivered to my mom's house in the US.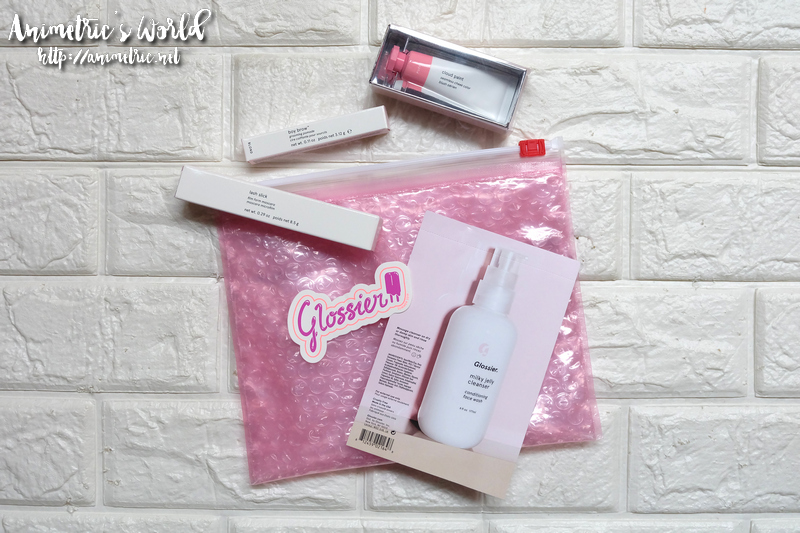 Because I wanted to avail of free shipping and discounted prices, I ended up buying 3 products — Glossier Cloud Paint, Glossier Boy Brow, and Glossier Lash Slick.
This is Glossier Lash Slick (US$16), a film form mascara. Film form mascara can be washed off with warm water. It claims to curl, sculpt, and lengthen.
This is what the brush tip looks like.
Aside from Glossier Cloud Paint, Glossier Boy Brow (US$16) is the product that I've heard a lot about. It's an eyebrow grooming pomade which comes in Brown, Black, Blond, and Clear.
I got Blond because the photos I saw online made Black and Brown seem too dark. I tried using this and it really didn't do anything for me. I'll take an eyebrow pencil, thank you.
I got Glossier Cloud Paint (US$18) in Puff. This is a cream blush in a tube that's supposedly so easy to use there's no way you can botch it up.
I pressed the tube a bit and this big blob came out. This is WAY TOO MUCH product for both cheeks.
These are before (left) and after (right) application photos. I didn't put a lot so there's only a very subtle tint.
Looks a lot better when I finish it off with a bit of highlighter. I put it on my eyelids too because I had dispensed too much product. On my lashes are Glossier Lash Slick. Yes, they lengthen but the effect is feathery. I'm not sure yet if I like it.
You can see Glossier Cloud Paint on my eye area better in this photo.
What I like about Glossier Cloud Paint:
It's very blendable and pretty idiot-proof. If you put too much, you can blend it away.
Makes skin look naturally flushed and radiant.
Lightweight and doesn't feel like you have makeup on.
Fragrance-free — no makeup scent.
Downside? It's pretty pricey at P1,000 for a small tube. There are a lot of scammers selling fakes too so it's best to order directly from the Glossier official site. The problem is, Glossier doesn't ship to the Philippines. You can buy authentic products from Calyxta but stocks aren't always available.
I can definitely see myself buying Glossier Cloud Paint again and trying other shades.
Like this post? Subscribe to this blog by clicking HERE.
Let's stay connected: