Gloria Maris Greenhills has always been one of our go-to restaurants for family gatherings. My in-laws live in San Juan. Whenever we are celebrating anything with them, Chinese food is a must. It's always either Gloria Maris or Choi Garden. But what if I told you that Gloria Maris Greenhills is now owned and operated by Choi Garden? It's bound to be the best of both worlds, right?
Anyhow, we were invited to sample the new and improved Gloria Maris Greenhills last Monday. We were ushered into a function room on the second floor with 4 tables. This room also had 4 restrooms. It's ideal for gatherings for about 40-48 people.
For our first dish, we were served the Two Tone Almond Seafood Soup. It's presented with a yin-yang pattern, I believe the orange part is squash.
It's packed with bits of assorted seafood like fish and shrimp. Creamy yet not cloying, it's a good dish to start off your meal with.
Then we had Salt and Pepper Shrimps with Garlic. I loved this dish. The shrimp is so incredibly crispy you can eat the whole thing — no need to peel. It's like eating garlicky chips. The shrimps are so fresh that the meat is naturally tender and sweet.
Then came out Peking Duck served 2 ways. The chef himself came out to carve it.
This is the first way. We were served skin-on duck slices with lumpia wrappers, sliced cucumbers, spring onions, and sauce on the side. What you do is put some duck slices and veggies on the wrapper then drizzle with sauce. Wrap up and eat. Yum!
The Peking Duck skin is delightfully crispy and flavorful, lined with a layer of moist fat. The meat is tender and just as tasty.
This is the Mini Taro Basket with Prawn Scallop. Each person gets one helping and it's pretty hefty. A piece is about the size of my palm! I'd describe this dish as Taro Puff stuffed with big juicy shrimps and scallops in the middle. So good!
Then we all had a Dimsum Sampler (Hakaw, Egg Tart, Siomai). Everything was delicious. The Egg Tart was a surprise. I've always known Gloria Maris excelled in dumplings but wow, who would've thought they made exceptional Egg Tarts too.
This dish was another surprise — Fried Lamb Chops with Mint Jelly. I didn't know Gloria Maris had something like this in their menu as it's not really a typical Chinese dish. Skipped it though because I really can't stand lamb. My table mates loved it though.
We each had a serving of Braised Homemade Spinach Skin Beancurd with Enoki Mushrooms too. This is probably one of the best vegetable dishes I've had the pleasure of eating.
Here's another one of my faves — Lechon Kawali! Gloria Maris does this dish so well. The skin on top of each morsel is super crispy and the meat is soft and flavorful.
Next up was Australian Wagyu Beef in Black Pepper Sauce. I loved this dish as well, it's something Chinese oldies don't normally order during gatherings.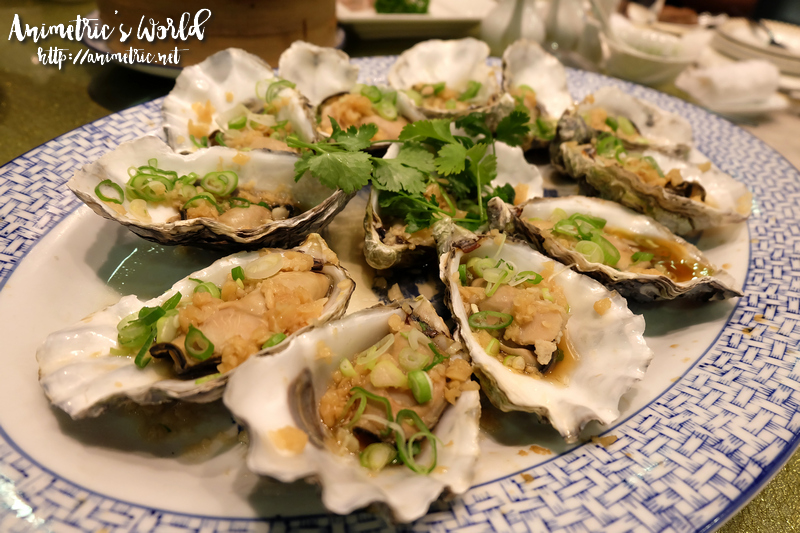 Everyone was all praises for the Steamed Live Oyster with Garlic. Incredibly fresh and flavorful, wow, just wow.
This is Frank Fried Rice, named after Choi Garden's owner Frank Lao, who came up with the concept for this dish. It's fried rice topped with minced pork and eggs, sort of gyudon-inspired. You mix the eggs after it's served. It's pretty good, certainly something different from the usual Yang Chow Fried Rice.
Steamed Apahap (Sea Bass) with Tongchay is another winner. We normally have Steamed Garoupa during gatherings so this was also something out of the ordinary for me. I love how they make the soy-based sauce. Not too salty, slightly sweet, and goes so well with the fish.
Then they came out with our Peking Duck's second way — Minced Duck with Lettuce.
Last but not least was Birthday Misua. We were all so stuffed at this point we ended up dividing this and taking home our portions.
For dessert, we had Almond Shake with Mango Cubes. Wow, I actually like this more than the usual Mango Sago, Hot Red Bean Soup, and Almond Jelly with Lychee. We should order this instead of the desserts I mentioned next time.
We also had Special Buchi. These were filled with salted egg cream and they were soooo good!
In my estimation, this table would've cost around P25,000 to P30,000 excluding drinks. Divide that by 12 people and it comes out to about P2k to P2.5k per head. It's actually reasonable considering the quality and sizes of the dishes served.  They have a promo right now wherein you can get 50% off your food bill on weekdays if you pay via your Security Bank credit card. You can avail of this until March 31, 2020.
Follow the Official Gloria Maris Greenhills Facebook Page to keep yourself updated with the latest promos. They usually have some form of credit card tie up monthly and we've availed of 50% off via Metrobank, BDO, and BPI countless times in the past.
Gloria Maris Shark's Fin Restaurant
Missouri St., Greenhills, San Juan City
857-00921
Like this post? Subscribe to this blog by clicking HERE.
Let's stay connected: