I've always loved Gigi Gaerlan Custaroons ever since I discovered them back in 2010. It's always a treat to be on the receiving end of these elegant boxes. As the story goes, Gigi Gaerlan serendipitously invented what seems to be a cross between custard and macaroons. She went on to perfect her recipe and eventually the packaging until the first Custaroonery opened in 2010.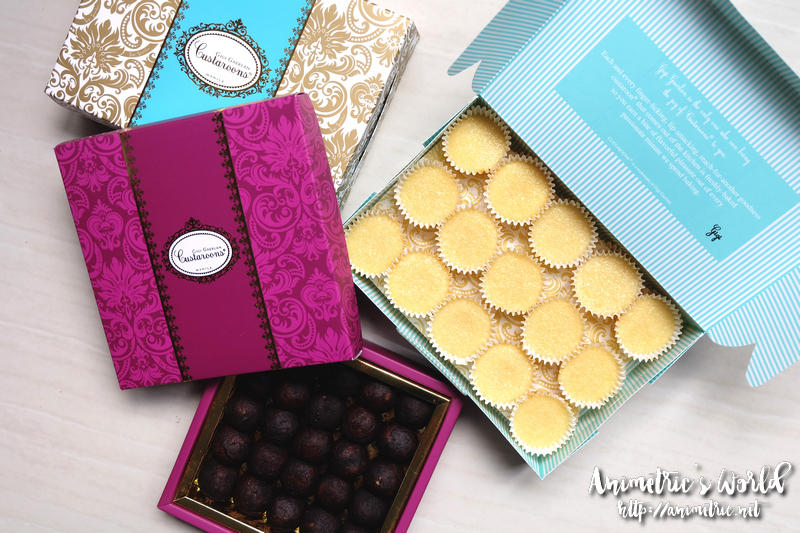 I got a few boxes of Gigi Gaerlan Custaroons for Mothers Day this year. These are so much better than flowers! I can share the joy of eating them with my hubby and kids too.
Just to give you an idea on pricing, these bite-size custaroons cost P450 for a box of 30 pcs. The normal-sized ones cost P50 a piece and are about 2.5x the size of the bite-size ones.
Imagine this: Creamy yet firm custard peppered with crunchy, buttery bits of coconut you chew on when eating macaroons. They're so good. I swear I'm so addicted. They come in cheese, green tea, and coffee flavors too.
These are Custaroon Poppers. They're bite-size custaroon balls coated with Gigi's premium chocolate powder concoction. Since custaroons tend to absorb the powder, each box comes with a sachet of extra chocolate powder. I didn't use the extra powder in this photo though because I was afraid of making a mess. These are heavenly! The bittersweet dark chocolate coating complements the custaroon's sweetness perfectly. This box of 25 pcs costs P350. Custaroon Poppers are available in Green Tea, Coffee, and Chocolate flavors. The flavored variants cost P430 for a box of 25 pcs.
I love Gigi Gaerlan Custaroons. They make really great gifts for all occasions. They're exquisitely packaged, readily available, and reasonably priced considering the quality of the products.
Here's a tip: Gigi Gaerlan Custaroons are so much better cold so pop them in the ref as soon as you can. 🙂
Visit http://custaroons.com for ordering information, store locations, and pick-up points.
Like this post? Subscribe to this blog by clicking HERE.
Let's stay connected: