Magnum unveiled two new flavors and a new brand ambassador earlier today at URBN Bar and Kitchen. I honestly had no idea what was in store when I got there.
The place was laden with chocolate! We were ushered to our tables were hors d'oeuvres were waiting for us. There were chocolate covered strawberries and lots of brownies!
Even if the new flavors were not revealed yet, I could already guess that they involved chocolate, strawberries, and brownies!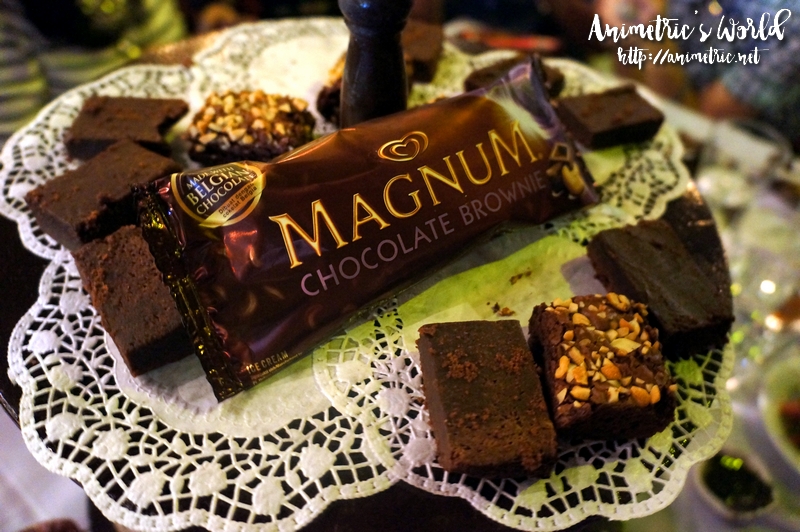 For dessert, Magnum's new flavors were brought out — first up, Magnum Chocolate Brownie! Creamy brownie-flavored ice cream with chunky cashew nut pieces coated with crackling Belgian chocolate.
Since I couldn't eat two Magnums, I chose to try Magnum Chocolate and Strawberry.
I unwrapped it.
I was expecting strawberry ice cream but lo and behold, it was creamy vanilla ice cream laced with strawberry sauce!
Georgina Wilson is the latest celebrity in Magnum's roster of brand ambassadors. She joins Tessa Prieto-Valdes, Solenn Heussaff, Raymond Gutierrez, Liz Uy, Rajo Laurel, and Erwan Heussaff… all of who embody the good life.
Okay, having tried the new flavors, I therefore conclude my favorite is still Magnum Almond… hehe! Magnum Strawberry & Chocolate and Magnum Chocolate Brownie are already available at all leading supermarkets and convenience stores nationwide for P50 per bar. Have you tried any of the Magnum flavors?
Like this post? Subscribe to this blog by clicking HERE.