Premier local cosmetics brand Happy Skin launched their new Generation Happy Skin Active makeup line last week. It's another collaboration with young star Kathryn Bernardo. Generation Happy Skin is Happy Skin younger line that's a bit more affordable compared to the rest of their product collections. Everything is below ₱500 and most products are in the ₱300+ range.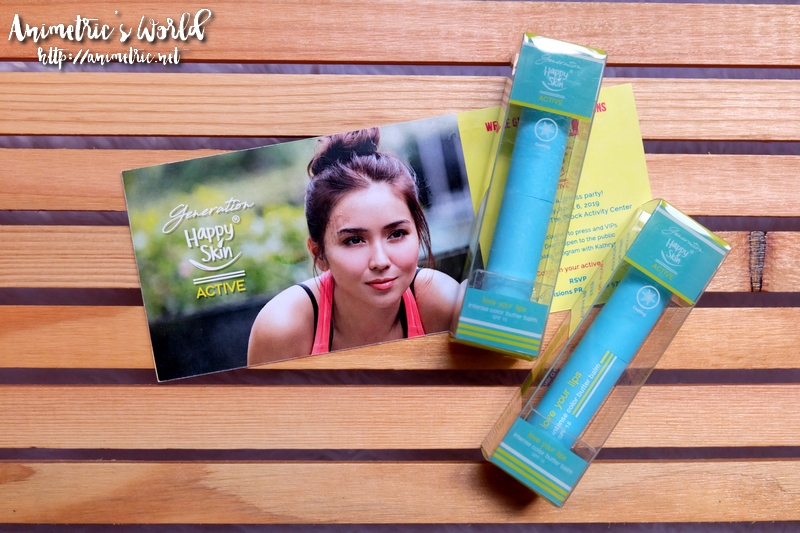 I was invited to the Generation Happy Skin Active launch. This line is touted as makeup that will give your sweat sessions a makeover. Products are formulated with active people in mind. While I have never considered wearing makeup when I'm working out, it's good to know there are products I can use when the need arises. Anyhow, I did not attend the launch because I'm not a fan of crowded mall events so I'll just be reviewing the lip balms they sent with the invitation.
Meet the Generation Happy Skin Active Love Your Lips Intense Color Butter Balm (₱349). Now that is a loooong product name, I seriously have no idea how people will be Googling it. Maybe Happy Skin Active Lip Balm? There are a total of 4 shades. I have 2 with me.
Here are the swatches. Wow, they weren't kidding when they said intense. These are just as pigmented as lipstick!
Here's Fierce. It's a warm coral red shade which will surely turn heads in the gym.
This is Powerful. It's a sort of natural-looking brown shade which I actually found nice. I normally steer clear of browns because I feel they make me look old. Not this one… I like this one.
So here's the shade Powerful as part of an everyday FOTD.
What I like about Generation Happy Skin Active Love Your Lips Intense Color Butter Balm:
I love the fresh minty feeling on the lips upon application.
It's very buttery so it glides smoothly on the lips.
The color pigmentation is intense, it's actually more like a lipstick than a lip balm.
It has SPF 15 to protect your lips from the sun's harmful rays.
It's formulated with Vitamin E and Argan Oil to prevent chapped lips.
While ₱300+ is a pretty hefty price for a lip balm, it's reasonable for a lipstick which is what I consider this to be.
Downside? I don't suggest wearing this during workout sessions because it doesn't dry. It stays moist forever. If you wipe your face with a towel this will probably smear all over.
You can purchase Happy Skin products online from the Happy Skin Flagship Store on Lazada.
Like this post? Subscribe to this blog by clicking HERE.
Let's stay connected: