Garnier and Shopee takes #OneGreenStep this Earth Day by donating 100% of the Garnier Super Glow Start Kits profits to CORA (Communities Organized for Resource Allocation). CORA is a non-profit organization dedicated to creating sustainable programs to help solve global issues centered on hunger, poverty, inequality, and climate change. CORA is also currently doing typhoon relief operations.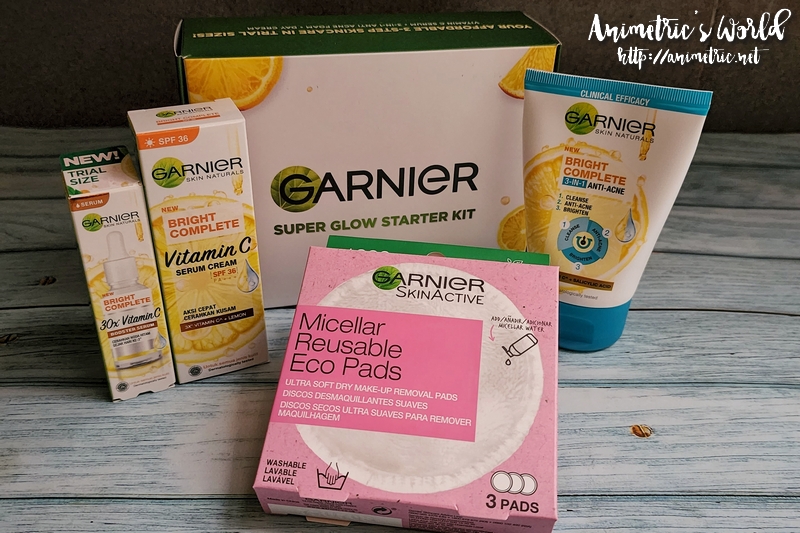 The Garnier Super Glow Starter Kit features three (3) Garnier products. Cleanse and care for your skin with this set and get instantly brighter, moisturized, and acne-free skin:
Garnier Bright Complete 3-in-1 Anti Acne Cleanser 90ml – With the power of Vitamin C and Salicylic Acid, this is the first and only cleanser that brings you 3 actions in 1 product. It cleanses, fights acne-causing bacteria, and brightens skin.
Garnier Light Complete Vitamin C Serum 15ml – With 30x more Vitamin C, this is Garnier's most concentrated formula for fading and lightening dark spots and acne marks in as fast as 3 DAYS!
Garnier Light Complete Brightening Day Cream 20ml – An ultra-light non-greasy serum day cream enriched with Pure Lemon Essence, WhiteSpeed Serum, and SPF 36 to brighten and protect the skin.
This set is now selling for a discounted price of ₱654, with 100% of profits going to CORA as I've mentioned earlier.
If you reach a minimum spend of ₱999 at the Garnier Shopee Store, you get these Micellar Reusable Eco Pads as a free gift. I've actually tried using this and it works exactly like a cotton pad. It's very soft on the skin and it uses the same amount of micellar water as you would with a cotton pad. This is washable for up to 1,000x and one box contains 3 pads. You can wash it by hand or wash it in the washing machine with the rest of your laundry. It retails for ₱550 so that's 18 centavos per use. I love that I'm not generating trash with every use.
So shop at Garnier today and do more than just celebrate Earth Day — help out a worthy cause and take a small step to a zero waste lifestyle.
Like this post? Subscribe to this blog by clicking HERE.
Let's stay connected: