Some days ago, I unboxed premiere bread brand Gardenia's latest offering — Gardenia Delicia. Gardenia Delicia is a line of creamy chocolate-based spreads that come in 2 variants: Milky Chocolate Spread and Hazelnut Chocolate Spread. Both retail for less than P100 per 200g jar, making them a very affordable alternative to the leading hazelnut spread which must not be named.
Both my kids are now teens. That said, they are a lot more jaded and harder to please. Plus, they're always hungry! My goodness, what a combination. They're always asking me what they can eat and if I say we have bread, they'll say "and then?". It's nuts. I'm always wracking my brain for what to feed them next. That said, it didn't really come as a surprise when they had next to no reaction when I showed them the Gardenia Delicia spreads. Lol. Time to level up mom, haha! So how do I delight my teens with my new discovery? I turn it into something new that we don't have everyday. Today I'll share with you my quick and easy recipe for…
Gardenia Delicia Bread Pudding
Ingredients
8-10 slices Gardenia Thick Slice Classic White Bread
4-5 tbsps Gardenia Delicia Spread (you can use your preferred variant)
1 cup All Purpose Cream
1/3 cup Muscovado Sugar
2 Eggs
1 tsp Vanilla Extract
Pinch of Salt
Butter for greasing
Procedure:
Spread Gardenia Delicia generously onto the bread slices as if making sandwiches. I chose to use Gardenia Delicia Hazelnut Chocolate Spread. I did 1 tbsp per sandwich.
Cut the sandwiches into small cubes. I was able to make 9 small cubes per sandwich.
Using a spatula, grease an 8″ x 8″ baking pan with butter.
Fill the baking pan with the small cubes of bread with Gardenia Delicia.
In a separate bowl, whisk together sugar and eggs. Add cream, vanilla, and a pinch of salt and whisk until well-blended.
Preheat oven to 350F.
Pour the mixture over the bread cubes with Gardenia Delicia. The mixture should be sufficient to cover everything. Let soak for 15 minutes.
Put a lid on the baking pan (or cover with aluminum foil) and bake for 30 minutes.
Remove cover and bake for another 10 minutes.
It's no secret that I don't like the hazelnut spread that must not be named. I find it way too sweet. Surprisingly though, I liked the Gardenia Delicia Hazelnut Chocolate Spread. It's super creamy, spreadable, and more importantly, not overly sweet. On regular days, I slather it over sliced bananas or strawberries. Next time I'm going to add it to overnight oats. Oh, you can actually experiment with different types of bread for this recipe.
This is how the cubed sandwiches should look. If you're working with irregularly shaped or thicker bread, just spread Gardenia Delicia over the surface and cut into pieces. You can control how much spread you want to put — for me 1 tbsp per sandwich is already okay.
I pretty much just stuffed all the bread cubes into the baking pan.
You can actually use any type of granulated sugar for this recipe. It's just that we use muscovado sugar at home so it's what I put in.
This is how my egg, sugar, cream, vanilla extract, and salt mixture looks like. The coffee color is because of the muscovado sugar.
Here's how my pudding looked like before popping into the oven.
Voila, the finished product — Gardenia Delicia Hazelnut Bread Pudding!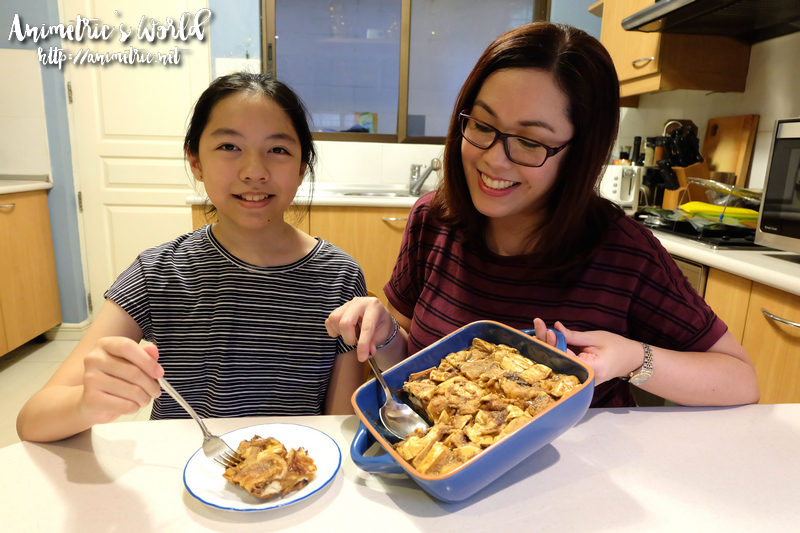 So I served it to my daughter after school and she ended up eating 1/3 of the pan lol. My son had another 1/3 when he came home from school much later. So I guess I succeeded in delighting my jaded teens with the Deliciously Delightful Delicia! They even said it's like the dessert we'd have in hotel buffets.
Gardenia Delicia is available at leading supermarkets nationwide. SRP is P97 for the Milky Chocolate Spread and P99 for the Hazelnut Chocolate Spread.
Like this post? Subscribe to this blog by clicking HERE.
Let's stay connected: