Taking a break from my usual beauty-oriented and food-oriented posts, let me share how I spent my Saturday afternoon… at Gandiva Cafe and Archery Range!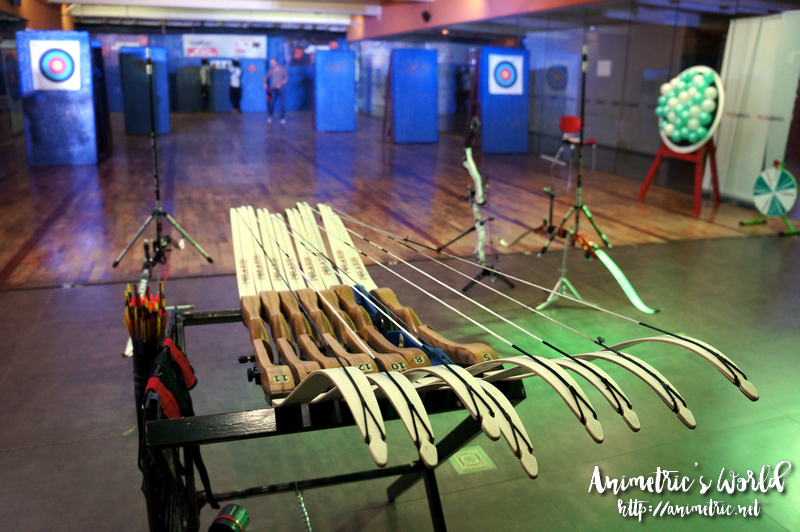 My friends and family know how much of a die hard gamer I am. I've always been the weird girl — I'd rather play video games rather than read one of those vapid romance novels a lot of girls my age at the time (high school? college? I forget) liked so much. Don't get me wrong, I'm a voracious reader and my idea of a great weekend was to go to National Bookstore and buy books before the advent of the internet. Romance novels just aren't my thing. So anyway back to the present. Marj asked me if I was game to try archery. I said hell yeah, I'm a gamer aren't I… hahahaha! The rest as they say is history. We met up at Gandiva Cafe and Archery Range last Saturday afternoon.
While waiting for Marj, I pigged out because there were so many munchies laid out on a buffet-type table. They were all vegan though, so good for me! I was too busy eating to take pics but I really loved the Vegetarian Sisig and the Mushroom Crisps was it… I forgot the name. Nom nom.
Finally I got to try my hand at archery!
Upon registration the folks behind the desk persuaded me to sign a waiver so I could join the competition. Uhhh… it's my first time to try archery but okay what the hell.
I asked the dude what this guard was for. He said it's to prevent the bow string from springing against your skin. Makes sense.
You have to hold your left arm straight and taut while your right hand (3 fingers only) does the pulling of the bow string (your hand has to reach your cheek). You have to close your left eye too. Aim and then you let go.
OMG. I hit the blue balloon on the first round of the competition. It was so dead on I think I heard people clap behind me. I surprised even myself. Prior to this day I have only been able to try archery in video games and manipulating a controller is very very different from actually using a real live actual bow.
I missed the balloon in the second round but totally hit the bullseye on the third round. Marj looked at the scores and said I scored high unfortunately it wasn't high enough to take the top 3 spots but hey, at least I didn't suck hahahaha!
I just rewarded myself with more food after hahahaha! Everything they serve is vegan. Everything is yummy. If I wasn't so pumped up over the whole archery thing I would totally eat more.
Thanks Marj for introducing me to the wonderful world of archery! Thank you also to Gandiva Cafe and Archery Range and IC Mendoza for a super fun afternoon!
A one-hour session at Gandiva Cafe and Archery Range usually costs P980, but they have a weekday promo ongoing which cuts the cost to P680 per hour. They open at 10am and close at 7pm (except Friday and Saturday, when they close at 9pm).
Gandiva Cafe and Archery Range
Unit 703-705 One Corporate Center
Julia Vargas cor. Meralco Ave., Ortigas Center, Pasig City
638-8771 (Archery) / 638-4549 (Cafe)
http://www.gandiva.com.ph/
Like this post? Subscribe to this blog by clicking HERE.
Let's stay connected: