I had a lovely dinner at Kirin with blogger friends old and new plus the good folks over at CIBA Vision for Freshlook contact lenses.
I've been wearing glasses ever since my single days since I have a bit of nearsightedness and astigmatism, but would you believe that I have never owned a pair of contact lenses? I don't know the first thing about putting them on and my vision is not that bad (grade is 25/50, and I've kept it that way somehow for almost two decades). During times I need to wear make-up I just leave the glasses at home.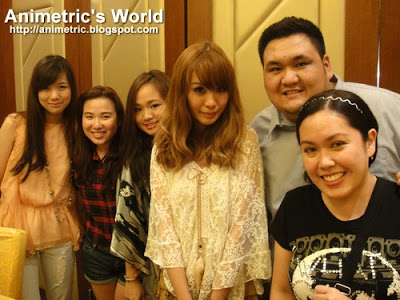 From left to right: Valerie, Mrs. M, Marj, Tricia, Franco, and myself. Missing Seph and Shai since they left early… hahaha, I felt like everyone's lola. My punchline is always "I have a 10-year old son." :p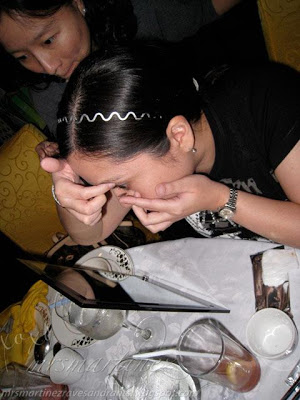 Since I was the contact lens newbie among all the bloggers present, Dr. Janna of CIBA Vision picked me as the demo blogger. She patiently taught me how to put them on and take them off. The first step is always washing and drying your hands properly. Thanks neighbor / BFF Mrs. M for this photo!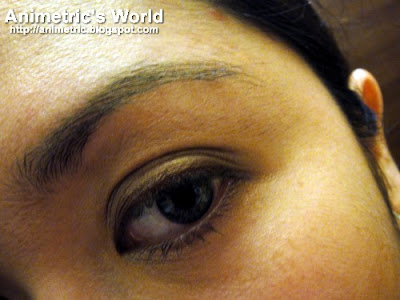 I put on Freshlook One Day contact lenses in gray. It's not too obvious in the photo above because the function room was not brightly lit. It was tough, Dr. Janna ended up putting them on and taking them off for me. :p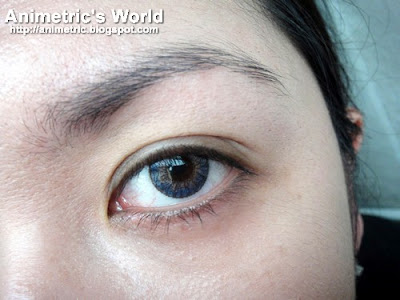 Anyhow, I got a few pairs of contact lenses with grade so I can enjoy clear vision in parties and events while wearing nice make-up without my glasses. Dr. Janna referred me to the Ideal Vision branch closest to me and had Dr. Mitch teach me how to put contact lenses on and take them off. I think I spent an hour with Dr. Mitch but at least I can now put them on hassle-free. Taking them off is another matter altogether. I find it more difficult and my eyes were red when I finally succeeded in removing them. What I am wearing in the photo above is Freshlook One Day contact lens in blue. Oh yeah, my skin looks nice in the photo because I used Kanebo BB Cream from a tester. I wanted to buy one but it was out of stock… but that's another story. :p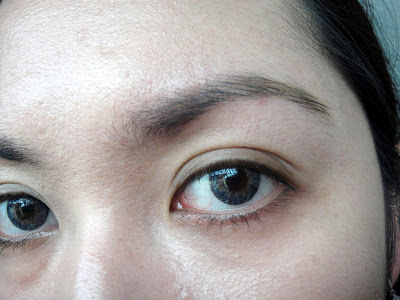 Had I known blue would look natural on me I would've ordered this color. I opted for Honey, Turquoise, and Gray. I'll let you see them in a future post. I also bought a gigantic bottle of contact lens solution because newbies like me tend to use a whole lot, hahaha!
Freshlook One Day contact lenses cost P850 for 5 pairs. Let me say a little something about single use contacts — you're not supposed to use them for like a week or a month! I remember friends telling me proudly that they were able to make their One Day contacts last a long time. Doing something like that will damage your eyes in the long run so don't! We're only given one pair of eyes so we should take good care of them. If you must maximize, I think it's about 2 days tops and that's pushing it!
Freshlook Colorblends are meant to be used for two (2) months tops, then you replace them with a new pair afterwards. They cost P1000 per pair, making them a cheaper alternative to single use ones.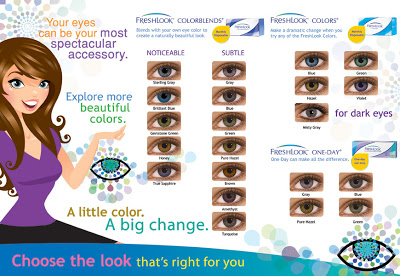 These are the variety of colors available from Freshlook! When I've used up all my current stock I'll try the more noticeable shades like Sterling Gray.
I'll be sharing more of my contact lens adventures including make-up looks, cleaning and caring for them, etc. in my future posts. You can try / get / buy Freshlook contact lenses by CIBA Vision from all Ideal Vision branches.
Want to win Freshlook contact lenses? Check out the Freshlook FB Page!

Like this post? Subscribe to this blog by clicking HERE.Become a Facebook Fan for more updates from Animetric's World.