I attended a very interesting product launch last December 8, 2012. Being the Japan-o-phile that I am, I was immediately excited when I got an invitation to witness the unveiling of the Hokkaido Cake from The French Baker and Anchor.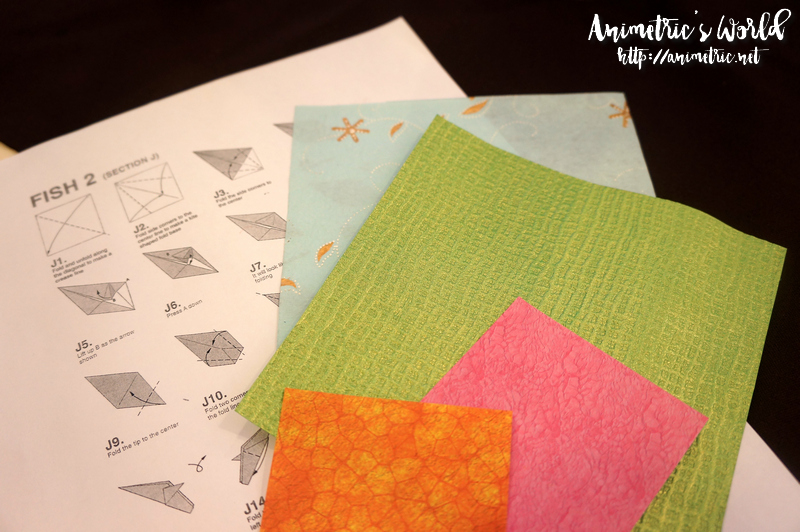 While waiting for the event to start, we were given origami paper with matching instructions to pass the time.
I couldn't help but notice the paper lanterns and Japanese-style parasols which adorned the ceiling of The French Baker at Robinsons Magnolia.
What do you know, we were treated to a live baking demo of the Hokkaido Cake by Chef Pauline Lagdameo of Fonterra Brands Philippines (Anchor) and Johnlu Koa of The French Baker! They would be whipping up a batch of Hokkaido Cakes right before our eyes. The recipe for the cake is Anchor's and they chose to partner with The French Baker because The French Baker doesn't use shortcuts when it comes to baking. They use good old-fashioned wholesome ingredients like real butter, eggs, and cream. Did you know that there are powdered eggs, vegetable oil-based butter substitutes, and so forth which can all be used to bake? They are cheaper to boot. The French Baker doesn't believe in using substitutes for the real thing so they were chosen by Anchor to bring us the Hokkaido Cake.
It all starts with a bowl of melted Anchor butter.
Egg whites are whipped until they form soft peaks.
This is how the ingredients should look.
You fold in the eggs and everything else into the mixture.
Then you pour them into little cups for baking. The French Baker uses paper baking cups which are placed on a tray to be baked in the oven. While the cakes are baking, Johnlu works on the cream filling. It's basically just whipped Anchor cream and vanilla.
After approximately 12 minutes, the cakes are done.
The vanilla cream filling is piped in after the cakes are baked.
The display counter was unveiled at around that time.
Although the French Baker Hokkaido Cake doesn't come with fresh fruits on top when bought, we were given a batch that had them as a serving suggestion. It's soooo good. Unbelievably light yet rich-tasting chiffon cake is filled with a mildly flavored vanilla cream. The sweetness level is just right. I finished my cake too soon, hahaha!
A French Baker Hokkaido Cake costs P65 a piece and comes in this nifty box with matching paper bag. It's all packed and ready for gifting! You can get five cakes for a discounted price of P285. It's perfect for the holiday season! It's so yummy I want to give all my friends Hokkaido Cake! 😀
Would you like to try The French Baker Hokkaido Cake? Just follow the contest mechanics below because I am giving away five (5) cake vouchers to one lucky winner!
This giveaway is open to Metro Manila residents only. I will ship the prize to you if you win. Good luck!
Congratulations Snow Dee! I will email you regarding shipping.
Like this post? Subscribe to this blog by clicking HERE.
Let's stay connected: