Hubby and I decided to check out the newly opened FowlBread BGC yesterday, Black Saturday. There are very few cars on the road during Holy Week so it's the perfect time to check out new places that aren't exactly in the neighborhood.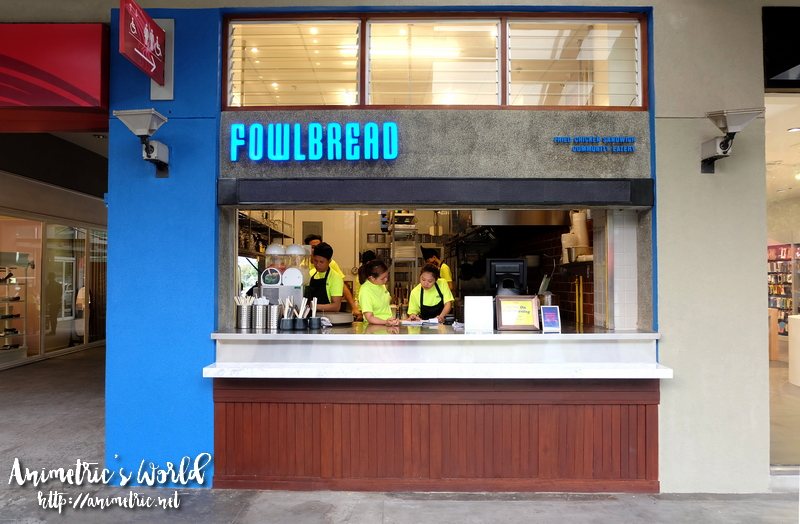 FowlBread BGC is located along Bonifacio High Street beside iStudio which is across Krispy Kreme. They have an open kitchen so you can see what's going on.

At FowlBread BGC, you can choose to dine al fresco or inside their air-conditioned section. It was soooo hot the past few days so we opted to eat indoors. Their air-conditioning is great — it's super cold inside! We've been going in and out of so many poorly air-conditioned restaurants lately it was refreshing to find one that can actually make you forget it's summer.
Each table has a set of utensils. They also bring a bottle of water to your table and a glass with ice for each diner.
It was so hot outside hubby and I decided to order some cold drinks to help us cool down. I had the Strawberry Hibiscus Slushie (P180) while he opted for the Frozen Pineapple Yakult Cocktail (P260). The strawberry drink was actually spicy — I commented that it tasted gingery and our server informed me that they use ginger ale to make it. I had a sip of hubby's alcoholic pineapple cocktail and it was actually didn't taste like it had alcohol. Of the two, I think I liked the taste of the Frozen Pineapple Yakult Cocktail more although hubby found it a tad too sweet.
For now FowlBread BGC's menu has a total of 5-6 items so we figured we'd order everything. This is the Garlic Egg Noodle (P170). Firm and chewy, we rather enjoyed the garlicky taste. You can add Tiger Prawn (+P150) but we were told prawns weren't available that day so we had it plain. It's already good but I imagine it would taste even better with the Tiger Prawn.
I opted for the Chicken Sandwich with Garlic Fries (P295). I'll talk about the fries first. You know how they make garlic bread — they mix butter and garlic and slather it on top of baguette slices? Same concept except they baste the fries with that same butter and garlic mix. Pretty tasty but yeah, quite oily (good kind of oil anyway since it's butter lol).
You can choose spice levels for your Chicken Sandwich — Safe, Spicy, or Chemical. I chose safe because I don't really fancy the burning sensation overly spicy foods leave on my tongue. Anyway the Chicken Sandwich is like this — a perfectly fried and seasoned chicken breast, pickles, radish, and super crunchy seasoned chicken skin lightly drizzled with creamy Russian dressing are placed in between deliciously soft buns.
I thought I'd have a hard time eating it because it's such a thick sandwich but I didn't, haha! I just grabbed it with both hands and started biting into it. Delicious! I love that we get a separate layer of pure chicken skin. Normally when we have a chicken sandwich it's the breast part without the skin. This is so much better!
Hubby ordered Chicken Sandwich with Salted Fries (P280). Same sandwich, plain fries. You can actually order the Chicken Sandwich ala carte for P235. The fries too — Salted Fries for P85 and Garlic Fries for P120.
For dessert we had Banana Donuts (P140). It's served with cream and rich melted chocolate for dipping.

The Banana Donuts were moist, chewy, and wow… they didn't scrimp on the bananas! We were already full from our main meal but we found space for these babies, see only one left and it didn't stay there long.
The only thing we weren't able to order from the menu aside from the additional Tiger Prawn for the noodles was the Potstickers (P190 for 6 pcs) because they weren't available.
I found the Chicken Sandwich and Garlic Fries combo to be filling but hubby found the sandwich a bit small for the price. FowlBread will be adding more items to their menu soon and if this is any indication of what the food is going to be like, I want more! As is, the sandwich, noodles, and banana donuts are worth trying already.
FowlBread
Bonifacio High Street (beside iStudio, across Krispy Kreme)
Bonifacio Global City, Taguig City
Like this post? Subscribe to this blog by clicking HERE.
Let's stay connected: