Since it's a long weekend, I've decided to blog about this place we visited during one such long weekend last November 2011 — Forest House in Baguio City.
Forest House is a Bed and Breakfast, a restaurant, and a bar of sorts all at the same time. When we visited, the place was jam-packed. Even if we had reservations, we could only stay on the second floor. Thus we couldn't watch the live band that was playing on the ground floor. They set up a long table for us since we were a big group.
It was nearly the holiday season at the time. The whole place was decked out in Christmas-themed decor.
We were served plates of this complimentary appetizer. I can only describe them as a small, crisp flatbread. They're nice to munch on.
I ordered Sesame Crusted Fish Fillet (P245) which was marked as one of Forest House's recommended specials on the menu. Pan-seared cream dory fish fillet is crusted with black sesame seeds and topped with mango salsa. It's served with mashed potato and a tortilla chip on the side. Sounds nice and looks nice. Unfortunately, it's a bland dish that made me realize cream dory can never be satisfying no matter how you cook it.
Hubby decided to get Forest House Wine Sauced Chicken (P245). It's also marked as a recommended Forest House special. It's served with your choice of steamed rice or mashed potatoes with fresh vegetables on the side. I liked this better than what I ordered. The rich and creamy wine sauce is very flavorful and it's good to eat with steamed rice.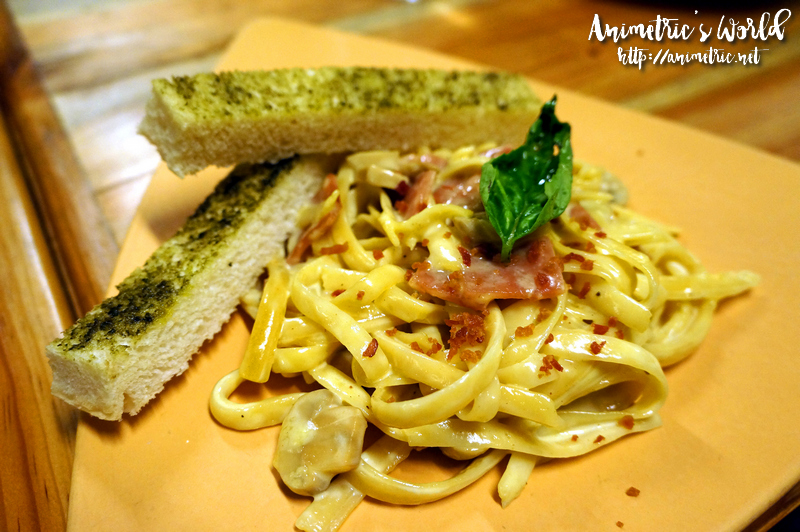 Our son opted for Fettuccine Carbonara (P230) which he finished to the last noodle. The white cream sauce had smoked ham and mushrooms, plus it was topped with bacon bits.
Meanwhile our daughter chose English Fish and Chips with Tartar Sauce (P275). It's crunchy outside and soft inside, served with potato wedges. Our little girl liked it.
After dinner, we decided to check out the unoccupied rooms. They are also located in the second floor dining area. This one is called Keanu's room. It's good for two people. It costs anywhere from P2,750 to P3,700 a night depending on when you stay.
This bathroom belongs to Kahlil's room which is good for 2 adults and 1 child. It has a queen-sized bed and a foldable sofa bed which can fit one child. It's markedly more expensive at P3,450 to P4,700 depending on when you stay.
We saw around three rooms and all of them have quaint, country-themed interiors that match the rest of the place.
Forest House is worth visiting if only for taking in the charming country-style ambiance. Food is so-so (average taste + small serving portions), service is really slow (either that or it's because they were full that night) — our orders took nearly an hour to materialize. The rooms, while pretty, are located right next to the dining area. I can just imagine the noise. I don't like the idea of being met by a hall full of diners when I leave the room.
Forest House Bed & Breakfast
16 Loakan Rd., Baguio City
+63 74 4470459
http://www.foresthousebedandbreakfast.com
Like this post? Subscribe to this blog by clicking HERE.
Let's stay connected: