Foodpanda launches its first ever physical pop-up store here in the Philippines… and it's at Trinoma Mall! Consumers can experience shopping at Pandamart for themselves. Pandamart is accessible via the Foodpanda app. You can shop for essentials like food, drinks, pantry essentials, pharmaceutical items, and more. When our whole family got quarantined at home due to COVID, I was able to make good use of Pandamart for stuff like Strepsils, Biogesic, and Vicks. It's really super convenient. If you reach the minimum for free delivery all you need to pay is the ₱50 platform fee. If you think about it, this is just equivalent to your parking fee.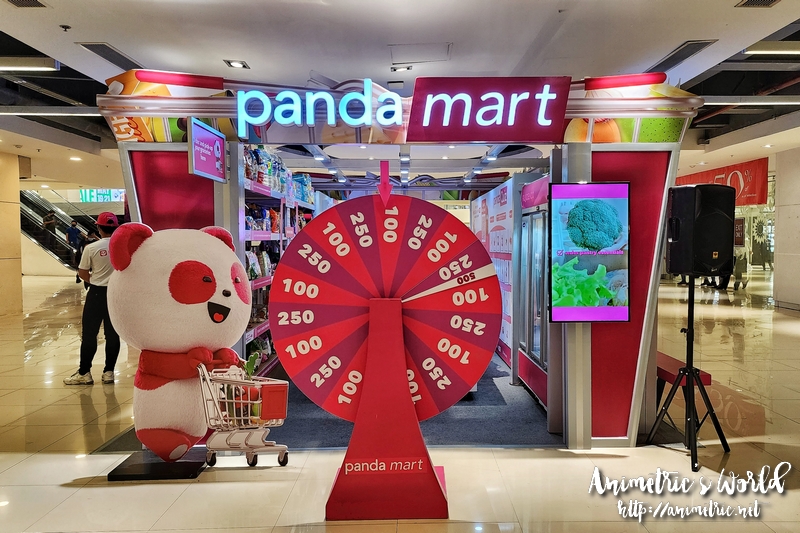 There are multiple activities to check out at the Pandamart pop-up at Trinoma. Those who order via the app and opt to pick up their purchases at the pop-up can spin the wheel and win Pandamart vouchers!
Pandamart has a nice, varied selection of essentials from snacks to household items like laundry soap and cleaning supplies. We've ordered everything from over-the-counter meds to toilet paper at home and we got our orders delivered in 15 minutes.
They have drinks too — both alcoholic and non-alcoholic. We've also tried ordering ice cream (Magnum bars to be specific) from Pandamart and they were in good, ready-to-eat condition upon arrival, no need to put in the freezer first!
If you take a photo at the Pandamart signage at the Trinoma pop-up and post on social media you get to take home free samples too!
You can also place an order and/or take the Panda Quiz to get more perks and freebies.
Additional vouchers and prizes of up to Php 10,000 will be given away to audiences who will tune in to the special Facebook livestream online selling event on May 27. This will also feature the Pandamart pop-up store look, available products, amazing deals, and how to order.
The Pandamart Pop-Up will be up until the end of May 2023. Head on over to Trinoma Mall to enjoy groceries done right, with exclusive deals and exciting prizes. It is located on the ground floor near Landmark.
Want to try foodpanda's pandamart for the first time? Use the voucher code NEWGROCER for Php 100 off on your first order and enjoy convenient online grocery shopping in the comfort of your home!
Like this post? Subscribe to this blog by clicking HERE.
Let's stay connected: