Okay, I learned about this from my good friend Skysenshi. Too good to be true? Well this is the deal: since Holiday Inn & Suites is celebrating its first anniversary this month, you can have a buffet lunch or dinner at Flavors Restaurant for P1,177 net and the second person can avail of the same buffet for only P1. That comes out to P588.50 per person, which is really cheap for a hotel buffet. Why, it's about the same price you would pay for dinner at a restaurant like Yakimix.
Anyway I told my hubby and my in-laws about it and we all decided to give it a go last night. This deal can be availed of from Monday to Saturday lunch or dinner and Sunday dinner up to April 30, 2014. Flavors Restaurant is located on the Lobby level of Holiday Inn & Suites in Makati.
I really love the place — spacious, classy, polished, and brand spanking new! The air-conditioning is top-notch too. The sweltering heat outside can't put a damper on your buffet experience here. Without further ado, let me show you around.
They have an assortment of breads. Not nearly as many as a larger hotel buffet like Sofitel's Spiral but sufficient for me.
You can make your own salad with an array of veggies, dressings, and toppings.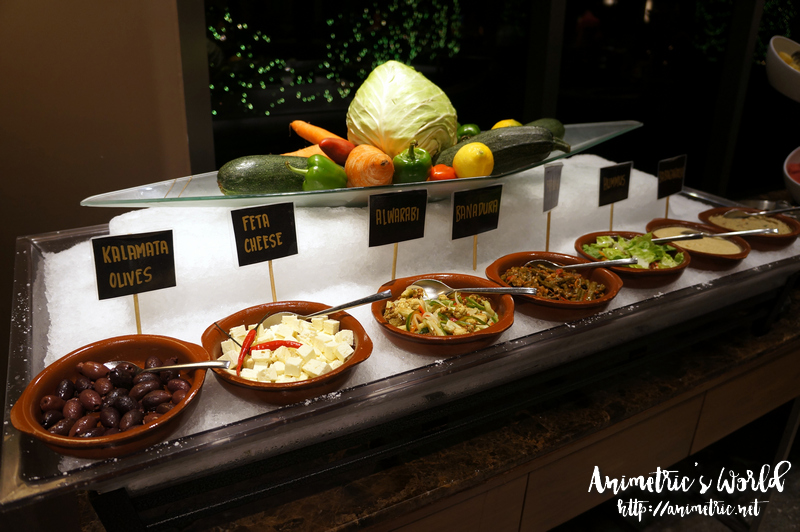 From this section, I really enjoyed the Baba Ganoush which I paired with Pita bread.
There's a modest sushi section offering 3-4 kinds of sushi. You can also ask the chef to slice up some tuna and salmon sashimi for you. They aren't on display but you can ask for them. 🙂
The sushi/sashimi station comes with complete condiments.
There are over a dozen freshly cooked and piping hot dishes for you to dig into, starting with this Beef Stroganoff which I liked. Creamy, but not overly so, plus the beef was pretty tender.
Lamb Curry! I personally do not eat lamb but I know a lot of people who like it, lol.
Roasted Potatoes — I had this with a couple of roast beef slices from the carving station which I asked the chef to grill to a medium well doneness (sorry I forgot to snap a photo of my roast beef… but it was good — even the kids liked it!).
Seafood? There's Grilled Tilapia Fillet and also some Crispy Fried Milkfish Fillet in another warmer.
For carbs there's Bihon Guisado…
…Penang Fried Rice…
…and Baked Macaroni. There's plain rice too if that's what you prefer.
Or you can ask them to make you a either a customized Chicken Noodle Soup or Beef Noodle Soup at the noodle station.
There's Thai Chicken Curry, if you're not keen on lamb.
This is what I had instead of carbs — Buttered Vegetables! The carrots were divine… perfectly sweet and crisp!
Aside from Roast Beef, you can ask the chef to grill Chicken, Mahi-Mahi, or Pork Belly for you.
Cold cuts? There were 3 kinds available — Black Forest Ham, Honey Cured Ham, and Salami. There are a few dishes that I didn't take photos of like Lechon Kawali, Seafood Sinigang, Plum Tomato Soup (it was sooooo good), etc.
As always, I saved space for dessert! There are maybe 10 kinds of cakes and pastries, also Bread and Butter Pudding with Clotted Cream which I really loved but was unable to snap a pic of. Lots of fresh fruits too.
There were French Macarons stuck to a bed of white chocolate too.
Last but not least is the DIY Halo-Halo station, perfect for summer!
Coffee and Tea are included in the buffet too! I had a cup of coffee to go with my dessert.
The food was pretty good, not outstanding or mind-blowing but I felt we definitely got our money's worth given the combination of the lovely interiors, peaceful ambiance, prompt service, and nice variety of dishes available. If you've always wanted to splurge on a hotel buffet but couldn't do so because of the cost, this is a good opportunity to do so. I even recommend this as a date place (during dinner) since it's really really private and secluded, it's like we had the place all to ourselves! I don't think too many people know about it. The dishes change on a daily basis.
Flavors Restaurant
Lobby level, Holiday Inn & Suites,
Glorietta 1, Palm Drive, Ayala Center, Makati City
909-0888
Like this post? Subscribe to this blog by clicking HERE.
Let's stay connected: