When I was a student at the Ateneo, I was very thrifty and I'd usually fix my schedules so that my classes would end at around noon so I could go home for lunch… if not, I'd grab something cheap at the caf (how we referred to the cafeteria back then). While I did go out to Katipunan Avenue for lunch on occasion, we'd usually haunt McDo, Sweet Inspirations, or Kamirori. I don't know if Sweet Inspirations and Kamirori are still in business though because I graduated from college back in 1995. :p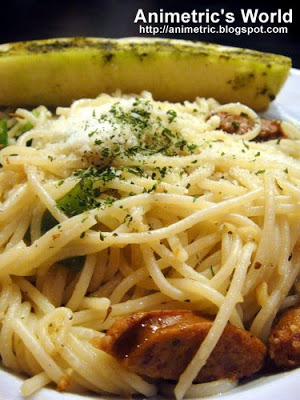 When my foodie friends suggested that we go to Flaming Wings over at Katipunan Ave., I was game. I haven't been to that strip fronting the Ateneo in years. Anyways, hubby ordered Penne with Sausage and Peppers (P108, pictured above). They ran out of penne pasta though so he had it replaced with spaghetti noodles instead. It was pretty good, and the serving was enough to satisfy a hungry guy.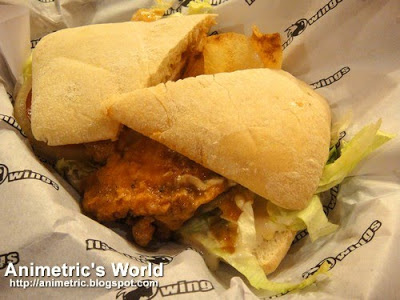 I decided to go for a Flamingwich (P95, pictured above), which is basically a fried chicken breast fillet sandwich. Ah, but the chicken breast is tossed in Flaming Wing's original sauce — the same one they use for their famous buffalo wings. It was served with potato chips on the side. Yummy!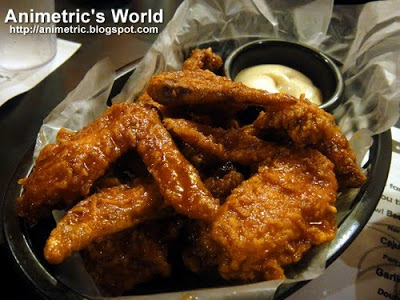 Of course, our trip to Flaming Wings wouldn't be complete without an order of their famous buffalo wings. We ordered 5 wings (P235, pictured above) in Smokey BBQ sauce. I thought we'd be getting 5 wing parts but we got 10, because 1 wing for them consists of both the drumstick-like part and the L-shaped part. Wow! They were big, crunchy, meaty, and delicious wings too. Talk about value-for-money! Had we known there would be so many pieces, we would've just gotten 3 wings which costs P143. There are five kinds of sauces too: Original, Smokey BBQ, Mild n' Sweet, Wild, and Carribean Jerk.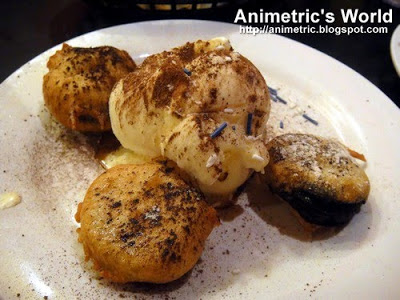 For dessert, we had Wicked Oreos (P75, pictured above). It's very unique. Oreos are fried in batter and then sprinkled with chocolate powder and then served with a big scoop of vanilla ice cream. It's really good and I suggest trying it if you ever find yourself in this place. 😀
If you're craving for buffalo wings, Flaming Wings is a great place to indulge since the servings are hearty and there's great value for money. 😀

Flaming Wings
318 Katipunan Ave.,
Loyola Heights, Quezon City
929-6900

Like this post? Subscribe to this blog by clicking HERE.
Let's stay connected: