As a person who's useless in the kitchen, I find great comfort and convenience in ready-to-cook meals. The easier to prepare the better. We always end up ordering food for delivery or going out to eat whenever our cook takes the day off.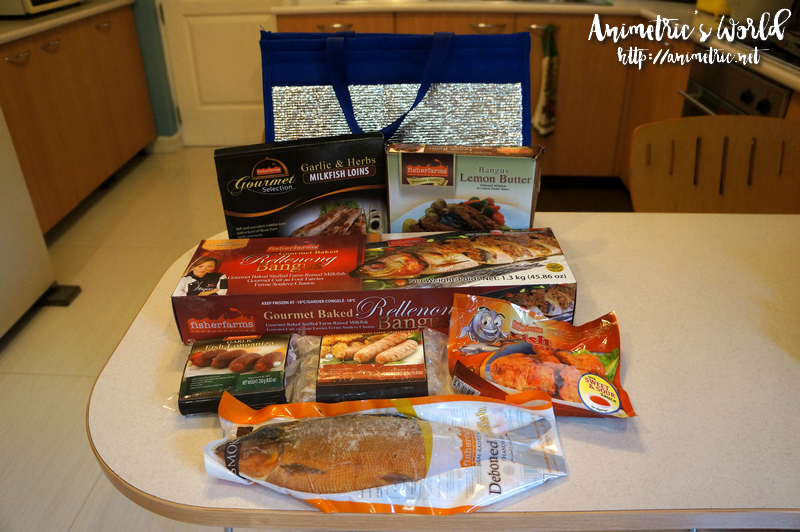 That said I was ecstatic when Fisherfarms sent me an insulated bag full of sample products! I mean, I haven't encountered these in the supermarket yet or if I have I must not have noticed. I'm a creature of habit where grocery shopping is concerned and since I have a cook I don't usually venture into the frozen ready-to-cook food section. We've tried everything in the photo above except the Fisherfarms Fish Nuggets.
Fisherfarms Garlic & Herbs Milkfish Loins (P165)
The day I got the Fisherfarms goodies, I told our cook to serve the Fisherfarms Garlic & Herbs Milkfish Loins for dinner that evening.
Each pack contains four sizable portions of mildly seasoned and boneless milkfish. I love how natural it tastes! It's just like a home-cooked meal. One pack perfect for a family of four like us! These can be grilled, pan-fried, or baked. Our cooked baked this so it was pretty oil-free. 😀
Fisherfarms Deboned Milkfish 400g (P140)
My SD card got corrupted and I lost some of my Fisherfarms photos so I don't have the box photo. We tried the Fisherfarms Smoked Deboned Milkfish some days later. It had a mild smoked flavor which we liked. The fish itself is nice and meaty.
Fisherfarms Garlic Fish Longaniza 250g (P80)
I must admit I was kind of scared to try this because any form of sausage made with fish usually tastes weird. One pack contains 9 pieces. Oh but hubby and I were in for a big surprise. This is hands down the best longganisa we've ever tasted! No irritating bits of fat, bone, and ligaments / cartilage… nothing unchewable just pure fish goodness. It doesn't smell or taste fishy — it's perfect! I mean you can tell they used bangus but it's made so well it's delicious! We super love it and it's so affordable at P80 per pack.
One of the photos I lost was that of the Fisherfarms Bangus Lemon Butter Deboned Milkfish (P249.95) which came prepacked with zesty lemon butter sauce. It's sooo good plus it's microwaveable so it's perfect for those with zero kitchen skills!
Fisherfarms' star product is the Fisherfarms Gourmet Baked Rellenong Bangus (Stuffed Milkfish) created by Chef Reggie Aspiras. It comes in 3 sizes: 800g, 1.1kg, and 1.3kg. It's kinda like meatloaf except it's made of fish. It's a mix of sweet and savory as it has carrots, green peas, and raisins. My daughter really loved this, it's too bad the photos of the prepared Rellenong Bangus on our dining table was among those I lost.
It's normally hard to get my kids to eat fish but with Fisherfarms' ready-to-cook fish, it was so easy! I'm not exaggerating when I say we loved everything! These affordable, delicious, and healthy offerings will definitely be part of my future grocery lists.
Fisherfarms products are available at S&R, Cherry Foodarama, Landmark, Metro Gaisano, Pioneer Centre, Alabang Supermarket, Savemore, Rustans, Puregold Duty Free Subic, Unimart, Cash & Carry, Robinsons, Crossings, Shopwise, SM Hypermarket, SM Supermarket, and South Supermarket.
Like this post? Subscribe to this blog by clicking HERE.
Let's stay connected: