I've been contributing to various magazines for more than two years now, with my first article published in Good Housekeeping Philippines back in April 2008.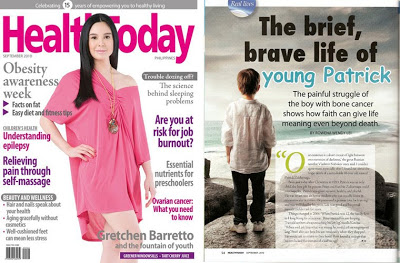 I've written countless features and stories, but none has inspired me more than the story of 16-year old Patrick Zaldarriaga. Patrick succumbed to bone cancer last June 12, 2010. When my editor asked me if I wanted to do the feature, I was at a bit apprehensive because agreeing would mean that I would have to interview Patrick's parents face-to-face and I didn't know if I could deal with that kind of grief up close. I mean, I know it must be very painful to lose a child, an only child at that but I can't say that I know what they're going through because I myself have never experienced a loss of that magnitude.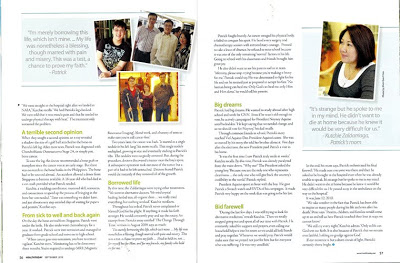 Fast-forward to the interview day. It was a stormy day, and traffic was bad since school got cancelled by noon. I arrived 30 minutes late. My photographer for the day was fellow blogger Cheftonio. We were met by Patrick's parents, Peter and Kutchie Zaldarriaga. Kutchie happens to be one of the Philippines' top wedding coordinators. They were very amicable and accommodating. They were well-prepared too, bringing out photos and videos of Patrick from his childhood days right down to the weeks before he died. It was very painful to see how such a healthy, happy boy deteriorated over the years while battling bone cancer. He underwent several surgeries, chemotherapy, radiation… it was really too much to demand from someone so young.
The admirable part is, Patrick was able to accept everything that was happening to him as God's will. He was able to find peace during his most trying times. He never gave up, he never complained, and he bore everything with a child-like faith that never wavered. I felt that sharing his story so that others may be inspired was the least I could do to honor his memory. If there is one particular article that I am most proud of, it would have to be this one.
I urge you to grab a copy of Health Today September 2010 (it's still in stock in National Bookstore) and become acquainted with this remarkable boy who up to now is touching the lives of many.
May your light continue to shine, Patrick.
Like this post? Subscribe to this blog by clicking
HERE
.