This Saturday (Dec. 2, 2017), Metro Department Store and Supermarket will be holding the Metro Crazy Sale. It's a one day event which starts at 7am and ends at the stroke of midnight. A lot of items will be selling at 50% off their original prices. It's a payday weekend so checking the Metro Crazy Sale out is a great way to make the most of your money.
I went to Metro Department Store and Supermarket in Market! Market! earlier today to get a preview of the deals they'll be coming out with this Saturday.
These Metro Crazy Sale catalogs served as my guide. There's one for the department store and one for the supermarket. You can find them at cashiers and counters all over the place.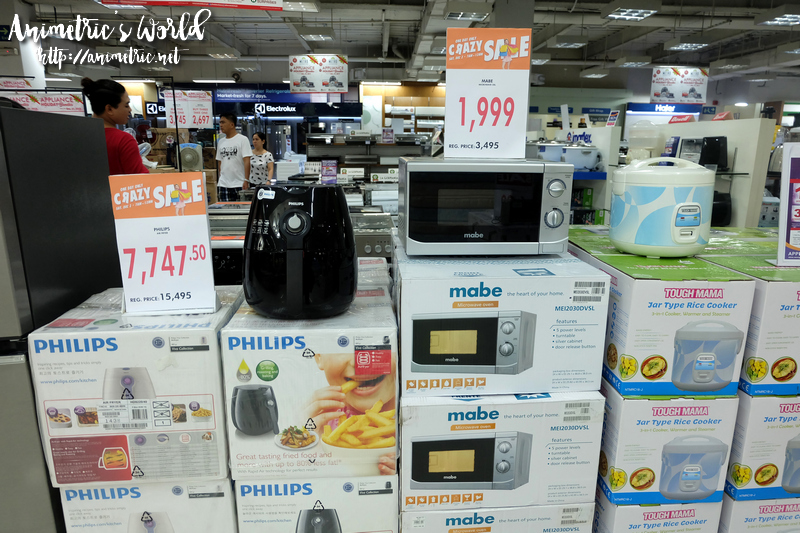 The most interesting offer for me is definitely the Philips Air Fryer. I want to prepare healthier meals and use less oil. This is something I've been thinking of buying for some time now. This Saturday, Metro Department Store will be selling this for 50% off — from P15,495 the price will go down to just P7,747.50. If you need a microwave oven, the Mabe 20L Microwave Oven will be marked down from P3,495 to P1,999.
These Power Recliners will be sold for 60% off — P7,995 from the original SRP of P19,999.
If you're in the market for cookware, this 7-pc Metroware Cookware Set will be priced at just P1,999 from P3,999. It's an induction-ready stainless steel set. Still using a traditional stove top? They'll be offering a 7-pc Metroware Cookware Set that's non-stick for 60% off. You can get it for just P999 discounted from P2,499. Luminarc glassware were already 50% off earlier today, so you can pretty much expect all the houseware to be on sale.
Buying gifts? These Barbie dolls will be buy 1 take 1 come Saturday. For P300+, you'll be getting 2 dolls!
These 42-pc Character Activity Art Sets will be 45% off — only P79 from the original price of P149. If you're the type who likes giving the entire classroom Christmas gifts, these are under P100 and feature several characters — Peppa Pig, Powerpuff Girls, Hot Wheels, etc. They will be slashing the prices of almost everything in the department store, including stuff like clothes and shoes.
Since the supermarket is just located at the basement level, I went around to check out a few deals. Butter Cookies are always a popular gift item during the holiday season. These tins will be buy 1 take 1 for P299 this Saturday.
All 1.3 Liter Tubs of Nestle Ice Cream will be buy 1 take 1 for P255 too. Goodness, even Magnum Infinity Caramel Bars will be buy 1 take 1 for P60!
Nivea Extra White Firming Body Serum 200ml will also be buy 1 take 1 for P274.
Stuff like RC Cola, Del Monte Fit 'n Right, Happee Gumtect Toothpaste, and Suisse Cottage Cinnamon Buns will all be buy 1 take 1 too. I swear there are just too many deals to enumerate here. This is after all their biggest sale event of the year.
Since I already went on a reconaissance mission, here are some Metro Crazy Sale tips I'd like to share:
Get a Metro Rewards Card before the sale. It costs only P150 and it's valid for 2 years. The card lets you earn points from your purchases. There will also be exclusive deals available only to MRC members.
Go early. The Metro Crazy Sale starts at 7am. Be there before 7am so you can take your pick from all the deals. Items will run out through the day so it's best to be there first.
Grab a copy of the Metro Crazy Sale catalogs so you can already zero in on the offers that interest you.
If you are alone, prioritize — supermarket first or department store first? Better yet, bring companions so you can divide and conquer.
Check out the brands you like even if you don't see their offerings on the catalog. Almost everything will be discounted that day. For example, Philips Avent, KYK Tools, Dickies, etc. will be at 30% off.
There are already discounted items as early as now but the main event and the best deals will be available only on Saturday. Happy shopping!
For more information, visit The Metro Stores on Facebook.
Metro Department Store and Supermarket
26th St. cor. C5, Market! Market, Taguig City
886-7519
Like this post? Subscribe to this blog by clicking HERE.
Let's stay connected: