Hubby, the kids, and I had dinner at the newly opened Fat Daddy's Smokehouse at UP Town Center last Sunday. We were invited to give them a try during their soft opening. To be honest, I was kind of relieved because having kids who are bottomless pits can be a challenge. It's like they are telling me they are hungry almost every other hour until I don't know what to feed them anymore.
Fat Daddy's Smokehouse is located at the ground floor of the mall. It's indoors right across Auntie Anne's Pretzels.
We were served some Hot Pork Poppers (P175) to start us off. It's kinda like a cross between bacon and chicharon. It comes with vinegar for dipping. Super crunchy and yummy! Better than bacon and chicharon individually lol.
Next up was Crispy Fried Pickles (P185). Pretty easy to imagine this one. You know those bottled pickles? Drain them and bread them, this should be the result. If you like pickles, this should be okay. If not, don't bother.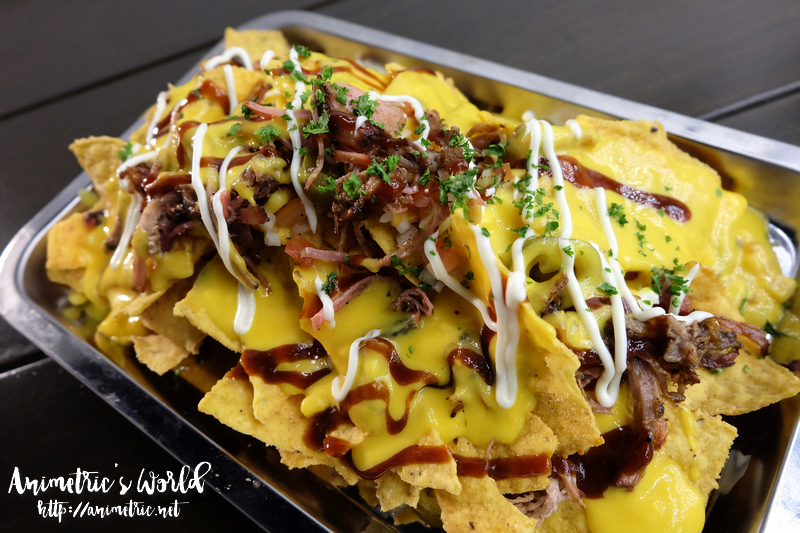 Jera's Ultimate Pulled Pork and Bacon Nachos (P600 whole / P330 half) was a hit at our table. The nachos are thicker than usual so it stays crunchy a lot longer even when covered in toppings and sauces. One large order can be shared by 5-6 people. Delicious!
This is the Hot Mess (P170). I'd describe it as mashed potatoes with everything on it. There's bacon, cheese sauce, pulled pork, and smoky BBQ sauce. It can be shared by at least 3 people.
Buttermilk Fried Livers (P210) is one of their bestsellers but I was too afraid to try it since I don't really eat liver (except Foie Gras lol). Hubby said he found it kind of weird but then he isn't into liver too.
Their Mac and Cheese (P170) is love. It's topped with bacon and that signature smoky BBQ sauce.
Finally the main attraction… Smoked Pork Ribs (P1,800 Whole / P900 Half / P480 Quarter). Tender and tasty, we were surprised at how these ribs were both good and not nakakasawa. Our main problem with meat places is the huge chunks of meat usually get cloying. Not the case for Fat Daddy's Smokehouse.
If you need more sauce, their trademark BBQ Sauce comes in a bottle on your table. There's Mustard Sauce too. I wonder if they sell these? I forgot to ask.
For dessert, we had the Bacon S'mores Dip (P250). It's deconstructed S'mores. There's a big bowl of melty chocolate topped with toasted marshmallows and bacon. The graham crackers are served on the side so you can dip them. Pretty nice, the kids liked it a lot.
Fat Daddy's Smokehouse is a meat lover's dream come true. Aside from Pork Ribs they have Beef Brisket, Bacon, Chicken BBQ, Hot Links, and Pulled Pork straight from the smoker. Prices are very reasonable and portions are good for sharing.
Fat Daddy's Smokehouse
B 132-134 U.P. Town Center, Katipunan Avenue,
Diliman, Quezon City
225-0697 / 0915 562 7447
Like this post? Subscribe to this blog by clicking HERE.
Let's stay connected: