Back in 2005, my hubby and I took a trip to Tokyo and checked in Tokyo Green Hotel. Beside our hotel was a quaint 24/7 convenience store called Family Mart. It was where we would buy drinks, snacks, and even breakfast since they had a wide array of delicious and affordable Japanese eats like onigiri, sushi, rice meals, and even oden.
I attended Family Mart Philippines' press launch last April 22, 2013. Prior to that however, I had already visited their store in Glorietta 3. Picture-taking was prohibited. Family Mart is a joint venture between Store Specialists, the Ayala group, and Family Mart Japan. Store Specialists and Ayala formed a new company which has a 60% stake at Family Mart Philippines (Family Mart Japan holds the remaining 40%). I super love Family Mart. I was there virtually everyday when I was in Tokyo.
Family Mart's offerings were showcased at the area outside The Peninsula's Conservatory. Everything you see here is sold in Family Mart. That sushi set retails for P99. It's pretty decent too.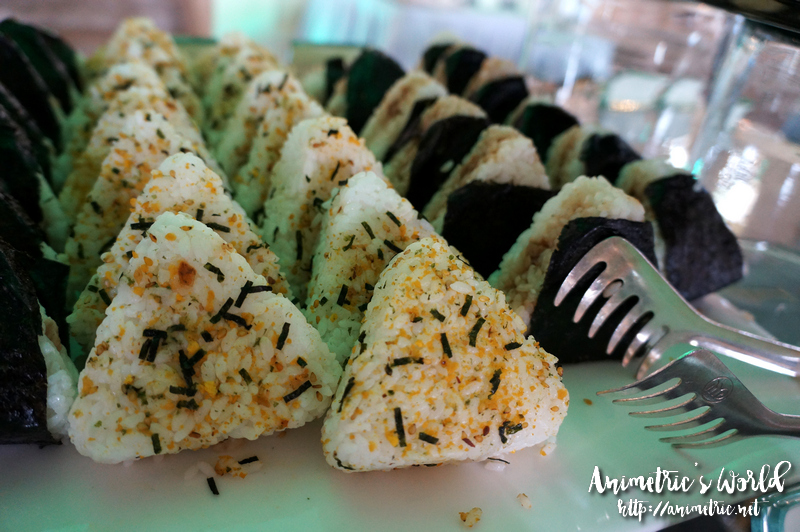 Oh my… onigiri! I love onigiri (rice ball). They sell several variants of it for P39 each. In Japan, I'd buy them for 60-80 yen a piece (back in 2008) so the price here is pretty fair.
They even offer cold noodles and katsudon. I tried them both and they're yummy!
These look like plain sandwiches but they're really good. The bread used is so soft and chewy. The ham is lean and meaty. Plus wow, I think I tasted American cheese.
They have all sorts of burgers too.
It's sandwich heaven!
They even let us try their juices — Calamansi and Dalandan. They have soft-serve ice cream too (I failed to take a photo). At P15 per cone, they have unique flavors like guinomis!
Sake (Japanese rice wine) anyone? Family Mart sells different kinds of sake. I quite enjoyed sampling their Sparkling Sake.
As a token, everyone got a picnic basket full of Family Mart Collection branded goodies! There's Caramel Corn, Tortilla Chips, Rice Crackers, Chocolates, Chestnuts, and lots more! Each pack retails for an average of P85. They're so yummy! I miss Japan more than ever now.
For more information and updates, check out FamilyMart Philippines on Facebook.
Like this post? Subscribe to this blog by clicking HERE.
Let's stay connected: