Hubby and I love Ramen Daisho. Personally I find that they have the yummiest ramen of all the Japanese franchises for the simple reason that their broths are comforting and never cloying. We spend weekday lunches at this place a lot.
So anyway, one Sunday again with our cook on a day off. We decided to take the kids to Ramen Daisho for lunch. Ramen Daisho is located along Shaw Boulevard so we can come and go as we please without having to make our way through the weekend mall crowd.
We had some salted Edamame (P100) as our appetizer. The Edamame are shaken with salt inside these basket-like serving dishes. I love munching on the beans! The kids couldn't really appreciate it though, lol.
It was a very hot summer day and so hubby decided to order Cold Zaru Ramen (P300) for lunch. Cold noodles are served with soft-boiled egg, chopped green onions, and sauce. He liked it a lot because it was very refreshing.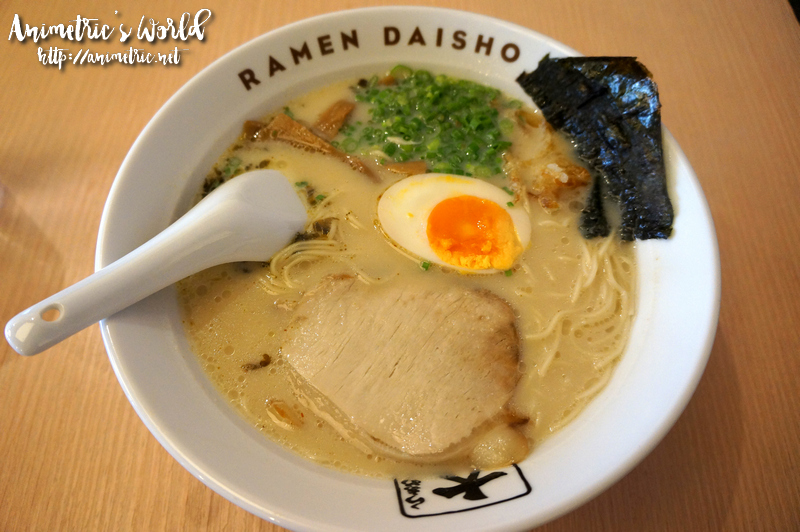 Our son decided to try Ramen Daisho's bestseller, Tonkotsu Ramen (P350). This was the first bowl of ramen I tried at Ramen Daisho when I visited a year ago. I think Ramen Daisho has the best Tonkotsu Ramen because it's lighter than most places and yet still big on flavor. Yum!
Our son loved it too! He finished his ramen in no time.
Our daughter opted for the Shoyu Ramen (P350), which is even lighter than the Tonkotsu. It's really good! It has a nice clean taste and it's not oily. Our daughter finished it too, which is a first because she usually can't finish a full order of ramen on her own.
Hubby and I love Ramen Daisho's fried rice Yakibuta Chahan (P250) so much we ordered one for sharing just to let our kids try. It's so good! Toasty, tasty, and just loaded with eggs, pork, and veggie bits, it's really a must-try!
I ordered the Miso Ramen (P350) which is a bit spicy. It's also the oiliest of all the noodle dishes we had that day. Suffice to say next time I'll stick to Tonkotsu or Shoyu or try something else. Oily and spicy just isn't a good combination for me.
Our kids can be quite picky with food and we're just glad they ate everything we ordered that day… but wait, there's more haha!
When you hear the word Wagyu, expensive comes to mind. Surprise surprise, at Ramen Daisho, it won't cost you an arm and a leg. You can order Wagyu Cube Steak (P390) for less than P400. You get about 8 cubes of incredibly soft, tender, and melt-in-your-mouth beef served with fries on the side. I like squeezing the lemon wedge all over the beef. My only complaint is its coated with too much sauce, I would've preferred to taste the meat more. Delicious overall though. I remember ordering Wagyu Steak Teppanyaki at Sugi for almost P2k and it was a pretty small serving at that so this is pretty fair. You can order the meal version of this which comes with salad and rice for P500.
This was another surprise. I normally dislike chicken but Ramen Daisho's Chicken Karaage (P200) is delicious! It's super crunchy outside and juicy inside plus it has this lemon-tinged flavor that's just awesome.
We were all pretty happy with lunch! 😀
We were hankering for dessert and Ramen Daisho has Jameson's Gelato in eight different flavors.
I opted for one of the bestsellers, Salted Caramel (P120). My son and I shared it. It was incredibly creamy and dense, much more dense than ice cream. There were no um… "air pockets"? The flavor was very rich and pronounced. I'm not an ice cream person but this is awesome.
My daughter had an order of Chocolate (P120) all to herself. I had a spoonful and wow, it had this deep dark chocolate taste that's so hard to get over! It's like pure dark chocolate transformed into ice cream. You have to try Jameson's Gelato when you visit Ramen Daisho!
This is maybe hubby and I's 4th or 5th time at Ramen Daisho but our kids' first. The previous times we came from the office to have our lunch break which is why it was just the two of us. We love it here and lol, this is actually our first time not to go on a weekday and order regular menu items because we've always had the lunch sets. Service is okay, even if there are a lot of diners food comes out pretty quickly. Food is delicious, prices are reasonable, plus the place is nice and clean too.
Yes, we'll definitely be back!
If you're going there weekday lunch, check out Ramen Daisho's P380 Lunch Specials!
Ramen Daisho
Unit 2 Sunshine Square,
Liberty Center, Shaw Blvd., Mandaluyong City
774-0036
Like this post? Subscribe to this blog by clicking HERE.
Let's stay connected: