One Friday afternoon after school, hubby and I decided to head on over to SM by the BAY with the kids for some family time. We wanted to take advantage of the cool February weather. There's nothing quite like walking by the waterfront with the cool breeze blowing on your face. As a family, we spend way too much time cooped up indoors and walking by the Seaside Boulevard where SM by the BAY is located is a great way for us to unwind after a busy week. We had dinner plans at Movie Stars Cafe.
We parked in front of the restaurant where we were set to have dinner.
I couldn't resist looking at the movie props on display.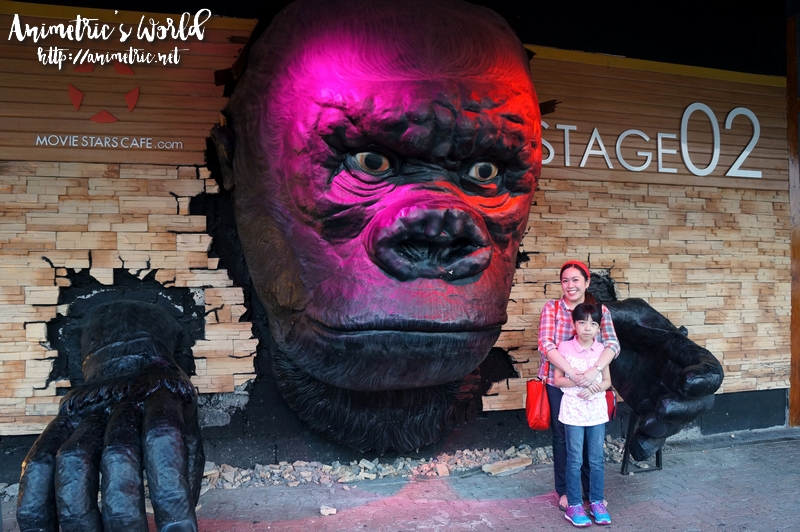 It was around 5:45pm when we got there so we decided to make use of what daylight remained for some photo opps. Our little girl was a bit scared of the gigantic King Kong facade at Movie Stars Cafe because it was quite convincing, lol!
We went behind Movie Stars Cafe to watch the sunset. It went down fast! We literally saw it drop into the sea. Love that we don't have to drive to a faraway resort out of town just to get a glimpse of a lovely sunset.
We decided to take the scenic route at SM By The Bay while making our way towards the rides. The festive air, rides, food stalls, and happy people reminded me of the Sta. Monica Pier in California. We've always wanted to ride the MOA Eye, one of the biggest and tallest ferris wheels in the Philippines, and we were finally going to.
It was twilight but it was still pretty bright thanks to all the lights outside. The MOA Eye is huge. It towers over SM by the BAY.
Wow, each carriage is air-conditioned! You get a really great view of the bay area from inside the MOA Eye. I think it'd be super cool if you could somehow time your ride to coincide with the setting sun. 😀
It costs P100 per person to ride the MOA Eye and a carriage can accommodate a family of four comfortably. Our little girl was kind of nervous because it was her first time to ride such a big and tall ferris wheel but she thought it was fun. After the MOA Eye we went to ride the Pirate Ship.
Aside from the MOA Eye and the Pirate Ship, there were lots of other rides and yes, less daring ones for smaller kids.
No amusement park is complete without a Grand Carousel and SM by the BAY has that too! SM by the BAY is open till 12mn daily, with the amusement park operating at the following hours:
Mon to Thurs – 3pm to 12mn
Fri – 3pm to 1am
Sat – 10am to 1am
Sun – 10am to 12mn
It's a really great venue for some family fun!
SM by the BAY has a wide variety of restaurants that would suit every kind of taste — whether it's Japanese, Filipino, American, Chinese… there's something for everyone where food is concerned. It was past 7pm after we checked out the rides and the kids were really hungry so we proceeded to Movie Stars Cafe for dinner.
Wow, I was seriously blown away by the props at Movie Stars Cafe! They imported life-sized statues of popular movie characters like the Terminator, The Predator, etc. The kids had a blast checking out each and every life-sized movie character at Movie Stars Cafe, and there were a lot!
Since we were all famished, we decided to go for the Dino Buffet at Movie Stars Cafe. There's actually a big picture-worthy dinosaur head with its mouth open by the buffet area.
The Salad Station is pretty small compared to other buffets but the fresh, crisp, and sweet veggies more than make up for it.
Oh my, I was surprised at how good the Seafood Aglio Olio was. The linguini was cooked perfectly al dente and wow, the seafood broth mixed with olive oil tasted very fresh and natural. Hubby and I loved it!
The kids opted for the slightly spicy tomato-based Arrabiata Pasta.
They also got a lot of Japanese Fried Rice. I stuck to my yummy seafood pasta, lol.
The buffet is definitely kid-friendly. The huge rather ordinary-looking Potato Wedges were surprisingly very good.
But wow, Movie Stars Cafe's Beef Tenderloin stole the show for us. It was incredibly tender and grilled perfectly medium well — really high quality meat that was just delicious. All four of us went back for seconds… and thirds. Their Lechon Kawali was just as impressive — crunchy skin and super tender juicy meat… yum!
I couldn't stop eating veggies that night because they were very fresh and sweet… buttered to perfection too! I kept raving about the carrots especially.
You can make your own burger with the available ingredients — hamburger buns, onions, beef patties, chicken, cheese, cucumbers, tomatoes…
The dessert selection was made up mostly of mini cakes of different flavors and fresh fruits in season.
What makes Movie Stars Cafe so unique is the fact that you're not just paying for dinner when you eat there, you're getting the complete entertainment package! There are musical shows every single night with themes such as The Avengers (see above), Frozen, Twilight, Grease…
Movie Stars Cafe is a really nice family restaurant with good food and lots of entertainment! We had a fun dinner and it was a great way to cap off our SM by the BAY visit.
Movie Stars Cafe Dino Buffet rates are as follows:
Dinner Buffet (6pm to 10pm) – P699 adult / P499 kids 6-12 yrs old / P299 kids 3-5 yrs old / FREE for kids 0-2 yrs old*
Midnight Snack Buffet (after 10pm) – P599 per person
*Add P100 per person for Friday, Saturday, Sunday, Holidays, and Day-Before-Holiday.
Movie Stars Cafe
Seaside Boulevard,
SM by the BAY, Pasay City
550-1234
Like this post? Subscribe to this blog by clicking HERE.
Let's stay connected: