During our Marco Polo Ortigas staycation, we had dinner at Lung Hin Restaurant. It's actually one of my favorite Chinese restaurants. Everything is always delicious. We've celebrated numerous special occasions at Lung Hin — my uncle's 50th birthday, my cousin's wedding, and so forth.
I took this photo around 10pm when the crowd had already thinned out. Lung Hin Restaurant is almost always full. It's best to make reservations beforehand.
For dinner, we decided to try Lung Hin Restaurant's Hong Kong Roasted Goose. A quarter order like this one costs P1,680. The meat is tender and tasty. I love how the skin is roasted to a crisp. There's a layer of fat underneath that makes it even more indulgent.
We also had Three-Flavored Prawns (P1,680). Big juicy prawns are battered and fried. Each piece is coated with a unique sauce to flavor it. There's Salted Egg, Blueberry, and Ginger. We all agreed that the Blueberry prawns were the best. Tangy and fruity, it was a different flavor experience.
To balance our meal, we ordered a vegetable dish — Stewed Tofu and Eggplant in Hot Pot (P480). My goodness, this is the yummiest eggplant dish I've ever eaten in my life. I never knew eggplant could taste SO GOOD. I can't even begin to explain the medley of flavors I experienced with each spoonful. Definitely one of the evening's best discoveries. Just give me this dish and some fried rice and I'd be super happy.
Steamed Pork Siomai with Foie Gras and Truffle Sauce was another decadent dish. You get 4 pieces per order, I forgot to take note of the price. Each siomai has a bite-sized chunk of foie gras on top.
Instead of having the usual fried rice, we opted for Claypot Rice with Guangzhou Sausage and Chicken (P420). One order is good for 2-3 people. Lung Hin Restaurant's Claypot Rice is done authentic Hong Kong style. We loved the toasty flavor of the rice as well as the flavorful sausage and chicken that topped it. This dish is actually already a meal in itself.
For dessert, we each tried something different. Coffee Jelly (P160) was for hubby.
Green Tea Mixed Coconut Jelly (P160) was our daughter's pick. It was served in the form of mahjong tiles. This turned out to be the best dessert of the night. The coconut jelly is super smooth, creamy, and sublime. It was the perfect ending to a hearty and tasty Chinese dinner.
I had the Chilled Avocado Sago (P250). Fresh and thick avocado puree is served with coconut milk and sago. It's very rich. They certainly didn't skimp on the avocados. If you like avocado shake, you'll love this.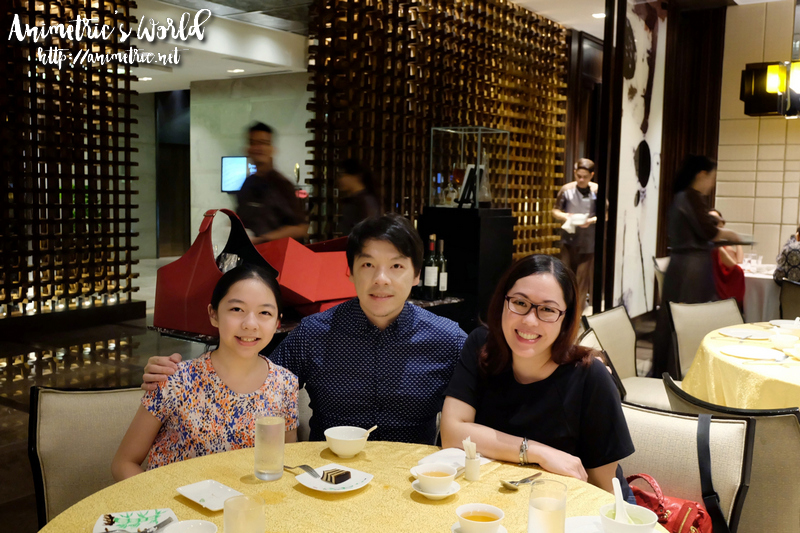 There were only 3 of us because my son was in a school trip to China at the time. We had a wonderful family dinner at Lung Hin Restaurant, as expected. You can't go wrong with anything in their menu. This is the nth time I've dined here and it's always a lovely experience from the venue to the food to the service. They're always coming up with delicious new offerings so there's something new to look forward to every time.
Lung Hin Restaurant
44/F Marco Polo Ortigas
Sapphire Road, Pasig City
720-7777
Like this post? Subscribe to this blog by clicking HERE.
Let's stay connected: