So anyway… I got wind of this brand reappearing in our country some time ago but I had to keep it under wraps. LUX is a brand I usually buy when I go to neighboring Asian countries like Hong Kong, Singapore, and Japan. I love LUX and I've always wished that the brand would be sold here again just like the old days. Wish granted — today we have LUX Magical Spell!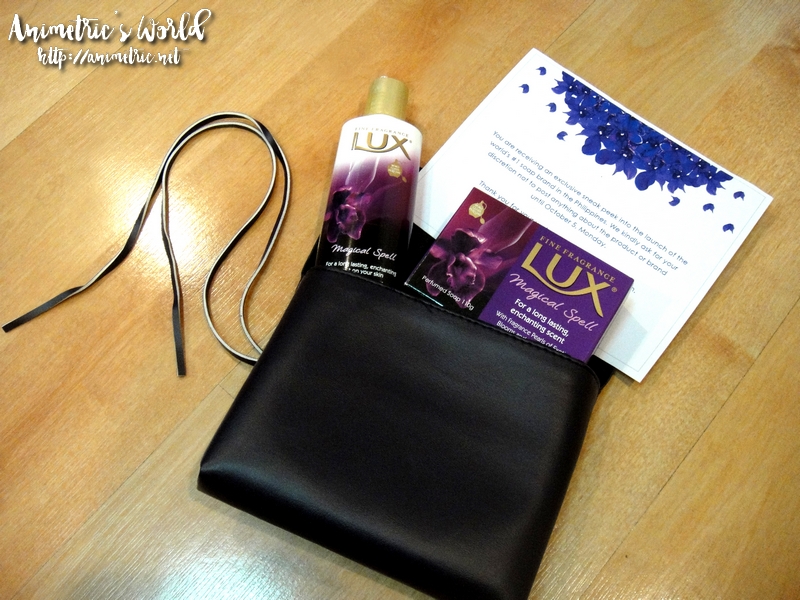 Today is the day I can finally share that LUX, a brand I've always loved, is in the Philippines! For now we have the body wash and the soap bar in four (4) fabulous variants (Magical Spell, Soft Touch, White Impress, and Love Forever), but I'm still hoping their hair care line makes it to our shores eventually.
I got a sneak preview of the LUX Magical Spell Soap and Body Wash over the weekend. Magical Spell has a fruity floral fragrance that's derived from Black Orchids and Juniper Oil. Each LUX variant has been especially crafted by perfume experts in New York, Paris, and London. LUX Magical Spell in particular was created by New York-based Master Perfumer Nicole Mancini. Aside from Black Orchid and Juniper Oil, she also combined essences of peach, musk, patchouli, vanilla, red currant, jasmine, and a lot more to come up with this bold and unique scent. LUX bath products can perfume the skin with up to 8 ours of lasting fragrance.
I was surprised at first when I put some of the body wash onto my loofah. It's a vibrant purple color. I like the fruity top notes of this variant. If you open the bottle and give it a press, you'll get a whiff of the delightful fruity notes.
Yay for the suds and bubbles. I know that suds don't have any bearing on the cleaning power but I find them nice to have. They just make everything so much more luxurious! Both the LUX Magical Spell Body Wash and Soap leave your skin feeling smooth and smelling fresh.
Would you like to try LUX Magical Spell? Log on to http://www.bit.ly/bathewithlux for a FREE sample set!
LUX Body Washes and Soap Bars are available at all leading supermarkets and department stores nationwide at the following price points: Soap Bar 110g (P39) / Body Wash 100ml (P55) / Body Wash 250ml (P120 – P125).
Like this post? Subscribe to this blog by clicking HERE.
Let's stay connected: