On our third day in Korea, we set off for Everland Resort, South Korea's ultimate theme park destination. We rode the subway to the bus station. Then we got on a bus for an hour long ride up the mountain where Everland is located. I was actually standing the whole time since the bus was full! :p
We arrived around noon so it was time for lunch. We went in the nearest dining hall, Venezia Restaurant. I was surprised to find that it was spacious and nearly empty unlike the overcrowded Disneyland eateries. I guess it's because we went on a weekday. 🙂
We each ordered a meal set. Hubby and daughter had Shrimp with Hamburg Steak and Rice. It was served with a side salad and a bowl of mushroom soup. It was huge and it cost around P400+.
The first attraction we visited was Pororo 3D Adventure. Pororo is a very popular penguin character in Korea. There are toys, snacks, drinks, and a whole lot of merchandise devoted to Pororo.
We watched a short skit in Korean before we were ushered into the movie theater. The 3D movie was in Korean too luckily the plot was pretty self-explanatory.
We then rode the chair lift to cross over to Everland Resort's Zootopia.
Zootopia is the zoo section of Everland Resort. We saw a Polar Bear!
Lots of cute penguins too!
There are also seals and sea lions. 🙂
Land animals like monkeys abound as well. We wanted to go to Safari World but the line was so long we passed it up.
Everland Resort is something like 4-5x the size of Hong Kong Disneyland.
We watched an animal show involving a lot of birds. The parrot spoke in Korean too!
There's also a petting zoo where you can interact with animals.
The kids fed guinea pigs!
They fed some cute parakeets too!
My hubby the daredevil rode that sadistic-looking roller coaster called the T Express which had something like a 10-storey drop at a 77-degree angle. I'm not nearly as daring as he is.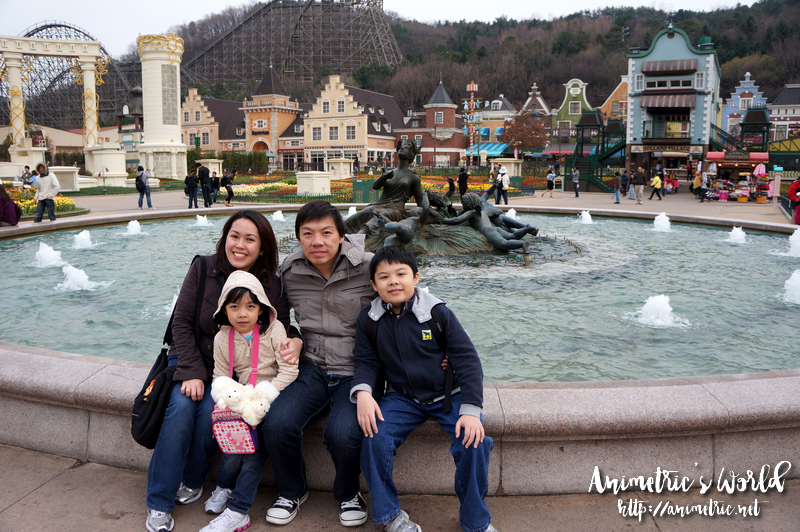 Walking around Everland is enjoyable too as there are a lot of nice sights.
We were lucky we chanced upon the Tulip Festival so there were all sorts of tulips all over the park!
I didn't know tulips came in so many colors!
We actually stayed until night time in order to catch the Moonlight Parade and the Dream of Laciun laser and fireworks show but I'll show them to you in the next post. 😀
For more information and discount coupons, log on to http://www.everland.com/web/multi/english/everland/main.html — we printed out discount coupons and were able to save several thousand won when we bought our tickets at the gate. Even without a discount Everland is definitely cheaper than Disneyland.
Like this post? Subscribe to this blog by clicking HERE.
Let's stay connected: