Masks are a regular part of my skincare regimen. I learned how to appreciate facial masks when I came home from Korea last 2012 with dozens of them. I couldn't let them go to waste, could I? What I did was read through what each one did and kept the ones that I felt would suit me and gave away what I felt wouldn't. When you're in tune with your skin and what it needs, you just know. My latest mask discovery is Etude House Wonder Pore Black Mask Sheet (P178).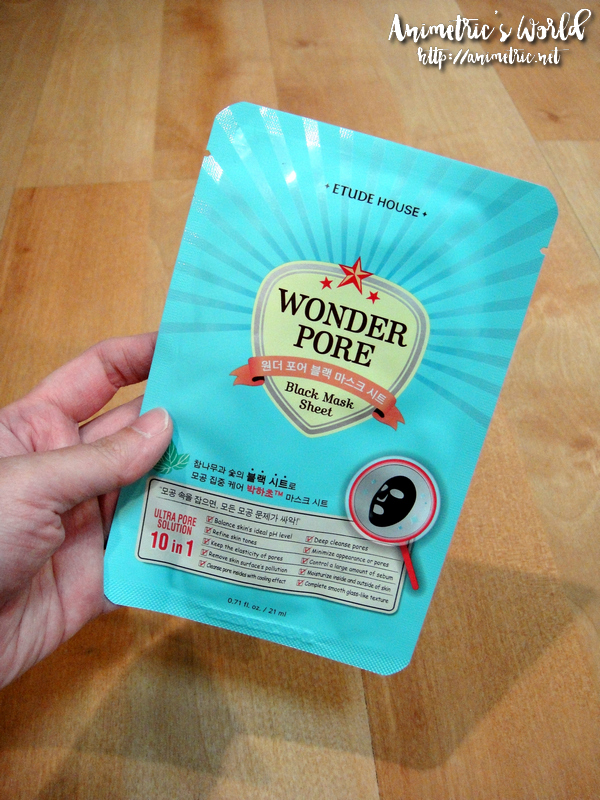 So anyway, I got this Etude House Wonder Pore Black Mask Sheet (P178) for review sometime last year. It's a 10-in-1 mask with the following benefits:
Balances the skin's PH levels
Refines skin tone
Maintains elasticity of pores
Removes skin's surface pollution
Cleanses pores with cooling effect
Deep cleans pores
Minimizes appearance of pores
Controls sebum
Moisturizes skin
Yields smooth glass-like texture
It's like… wow, right??? My skin still hasn't fully recovered from California's dry winter climate but I was off to a whole day event last Saturday so I wanted something that would clean, detoxify, moisturize, and yet control oil. It's a pretty tall order to fill and going through my arsenal of face masks, I felt Etude House Wonder Pore Black Mask Sheet was perfect for the job.
So I washed my face with a gentle, non-drying cleanser and proceeded to use the mask.
Whoa, it's black! Well it says so on the packaging but still, it's my first time to see a black mask.
Lol what timing, I was wearing a black shirt. I felt like a hoodlum lol… those types in movies which go around in ski masks and do stuff like rob people wahahaha! But seriously, the mask itself felt incredibly cool and refreshing. It's so velvety too, more so than regular mask sheets. I love it! This is definitely going to my favorites list.
My face was so refreshed after I had removed the mask and patted the excess essence into my skin. It dried off quickly and I was happy with how my skin looked and felt afterwards.
What I like about the Etude House Wonder Pore Black Mask Sheet:
The sheet mask's texture is wow! It's very smooth and velvety plus it fits very very nicely. It readily wraps around the contours of your face so it's not awkward to put on.
The amount of essence it's packed with is just right. It doesn't drip all over the place when you take it out of the foil pack. It does completely saturate your face with the essence so like I said, just right.
Your skin looks bright and feels smooth, clean, nice, and cool right after use.
My face didn't shine like a light bulb later on in the day after I had applied makeup and everything.
Downside? It's triple the price of the regular Etude House sheet masks which cost around P58 each. But you know what? It's totally worth it!
Etude House Wonder Pore Black Mask Sheet is available for P848 at all Etude House counters and boutiques nationwide. Log on to http://www.etudehouse.ph for a complete list of stores.
Like this post? Subscribe to this blog by clicking HERE.
Let's stay connected: