I generally prefer BB Creams to foundation but occasionally when I need to be really really dolled up, I go for the latter. For today, I will be reviewing the Etude House Stay Up Foundation.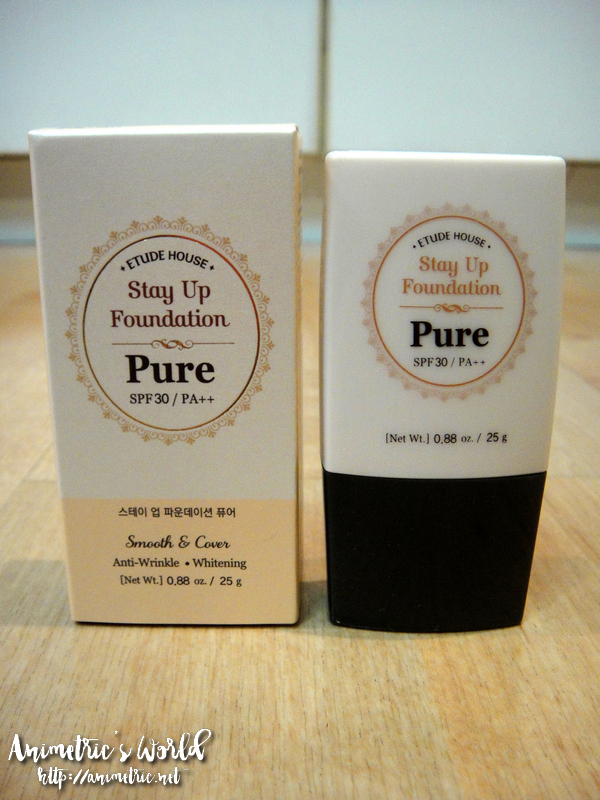 Now Korean BB creams and foundation products are usually quite limited when it comes to shades. You'll be happy to know that Etude House Stay Up Foundation is available in five (5) shades: Pure, Rosy, Ivory, Beige, and Sand. My shade is Pure.
Etude House Stay Up Foundation promises three (3) things: Smooth Up, Cover Up, and Moist Up. Simply put, after application you'll have smooth-looking moisturized skin and all flaws will be covered up.
I initially got Beige which is a medium shade but it was too dark for me. Pure is just right.
It practically disappears after rubbing back and forth with my finger.
Anyhow, the timing could not be more perfect because when I road-tested this a couple of weeks ago I was in the middle of a really bad breakout. I was so tired I fell asleep in my work clothes and was unable to cleanse my face. As a direct consequence I had a big ugly pimple 24 hours after (see before photo above left). I usually don't require much coverage from BBs, CCs, or foundation products but this certainly was one time I needed coverage. I think it did a pretty good job of brightening and covering as you can see from the after photo above right.
You couldn't tell I was having a bad skin day in the middle of a breakout.
This is a comparison of the foundation right after application (left) and six (6) hours after (right).
What I like about Etude House Stay Up Foundation:
It's got buildable light to medium coverage which can handle a breakout. I forgot I had pimples the time I had it on, lol. I went to a party and all my pics looked nice.
Leaves the skin looking naturally smooth, bright, and dewy
Stays put even after several hours — my pimples were still covered!
Has SPF 30 PA++ so you don't need a separate sunscreen
It's anti-wrinkle and it whitens your skin.
Available in 5 shades!
Reasonably priced at P778 for 25g
Downside? It doesn't control oil so you'll have to pat on a finishing powder if your skin is on the oily side. After 6 hours of no blotting, my face was shiny (but not overly so) but it was easily remedied by blotting with a facial tissue and then patting on a bit of powder.
Etude House Stay Up Foundation is available for P778 per 25g tube at all Etude House counters and boutiques nationwide. Log on to http://www.etudehouse.ph for a complete list of stores.
Like this post? Subscribe to this blog by clicking HERE.
Let's stay connected: