This is actually a long overdue review since I bought the Etude House Precious Mineral BB Cream (P798) last year. I have way too many BB creams for one person and for a time my hubby as actually getting annoyed at how our dresser was already full of not even half-used tubes because I kept trying and trying different brands.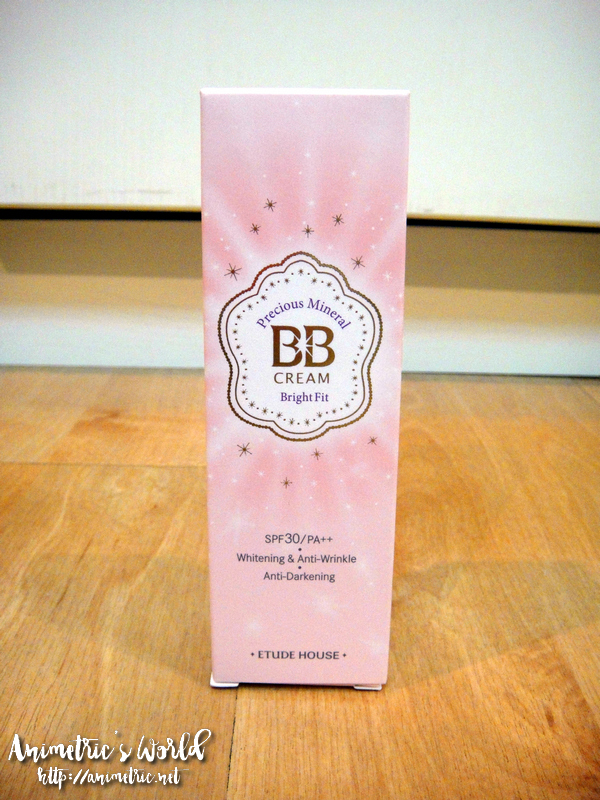 Anyhow, the reason I bought this is because when I went to Korea last summer, all the Etude House staff I asked in Myeongdong told me that Etude House Precious Mineral BB Cream is their bestselling BB cream at the time in Korea. It cost around 14,500 won when I bought it… that's around P580 converted to our currency. I found it to be very reasonable.
There were four shades available and I got Natural Beige W13 which was the 3rd shade (1st being lightest and 4th being darkest). Shade 1 would probably make me look like I have kabuki make-up on because it's just that light.
Etude House Precious Mineral BB Cream comes in a tube with a pump dispenser, which is very hygienic.
Oops I may have over-dispensed the product. Anyhow, this is Natural Beige W13. It really matches my skin.
This is my face before (left) and after (right) application.
What I like about Etude House Precious Mineral BB Cream:
There are four shades to choose from as compared to the usual two shades from other brands.
It's thicker and more opaque compared to most BB creams I've used so it offers medium coverage at the very least. That said, it's effective for concealing minor flaws.
It brightens your complexion instantly.
It glides on smoothly when applied. I just used my fingers and it was okay.
It's got whitening and anti-aging properties — specifically, it helps prevent wrinkles according to the box blurb.
It's got SPF 30 PA++ so you get sufficient sun protection, making it okay for daily use in place of regular sunscreen.
It has a nice, light scent that doesn't bother me.
The price! I bought it for around P580 in Korea but it's available for P798 in Etude House stores here in the Philippines. I think it's very, very reasonable because as I've mentioned before, Etude House is the Korean brand whose prices here in the Philippines is closest to the Korean SRP.
Downside? It's shall I say… "warm" on the face. Shortly after application, tiny beads of perspiration started to form which I had to blot off with a tissue. I was in my bedroom with just the electric fan on. I highly recommend using this when you are somewhere cool or cold because it will probably be difficult to manage in warm, hot, sunny, and humid places. BUT after the BB cream had completely set and dried later on in the evening it was actually okay and my face wasn't sweating anymore. I can understand why it's a bestseller in Korea because it's cold and dry most of the time there.

This is a photo of me taken during the event when I used Etude House Precious Mineral BB Cream. As I've mentioned earlier, skin looks dewy. I had just finished frying chicken in an air-conditioned kitchen so I'd say it held up pretty well as I still looked decent at the McCormick Korean Fried Chicken Mix event.
Okay, so this is my face 5-6 hours after initial application of the Etude House Precious Mineral BB Cream, after I had gotten home from the event. I didn't wipe or blot my face with anything. I took the photo under the fluorescent lights of our bathroom. Still okay, not oily, muddy, or greasy-looking.
Etude House Precious Mineral BB Cream is available at all Etude House stores for P798. Check out http://www.etudehouse.ph/ for a complete list.
Like this post? Subscribe to this blog by clicking HERE.
Let's stay connected: