At last, my 20th BB review, lol! I got the Etude House Precious Mineral Any Cushion (P998) by swapping out one of my other beauty products with someone who had two of these.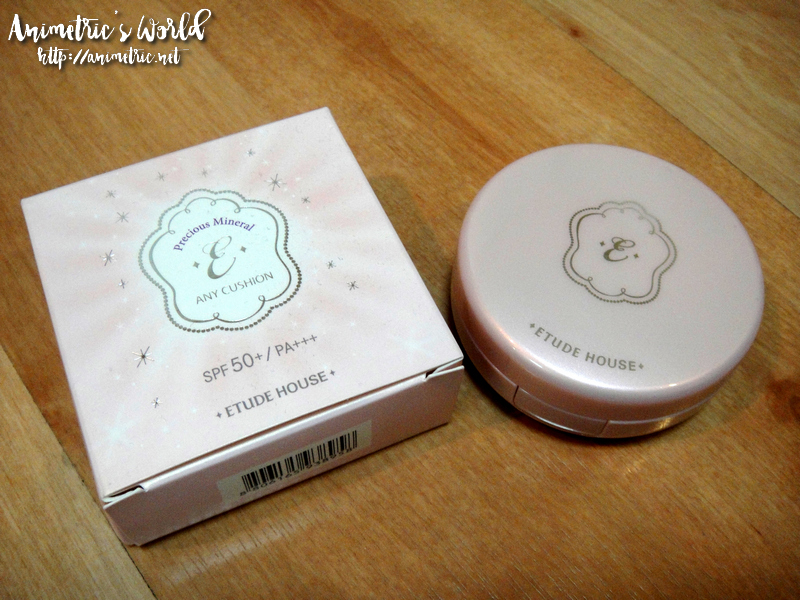 So anyway this BB, Etude House Precious Mineral Any Cushion, was released last August 2013. As you can see it comes in compact form.
Opening the compact reveals a mirror and an applicator puff. Doesn't it remind you of another BB?
Yes, it's a dead ringer for my favorite Laneige Snow BB Soothing Cushion. In Korea, this comes in 3 shades — light (N02 Light Beige), medium (W13 Natural Beige), dark (W24 Honey Beige). Here in the Philippines, only two shades are available — W13 Natural Beige and W24 Honey Beige. I don't blame them, because you'd be hard-pressed to find a lot of people who could pull off N02 Light Beige. I got W13 Natural Beige which is the same shade as my Laneige Snow BB Soothing Cushion.
So anyway, as the name suggests, Etude House Precious Mineral Any Cushion has a spongy cushion right in the middle of the compact that's soaked in liquid BB. You apply it onto your face via the applicator puff.
This is how it looks like when you pat it onto the skin without blending. W13 Natural Beige is still on the light side, so I think W24 Honey Beige suit most Filipinas better.
My face is naturally pinkish so if I want it to match my neck I have to apply either yellow-toned BB cream, primer, or foundation. Since Etude House is an Asian brand, it has a yellow undertone which is perfect for me. Check out the above before and after photos. It brightens your face instantly.
You have to wait a bit for the BB to settle so it won't be so bright and white, lol. This photo was taken maybe 15-20 mins after my initial application. It looks a lot more natural now.
What I like about Etude House Precious Mineral Any Cushion:
It's easy to use and mess-free. I don't have to get cream all over my fingers or get my makeup brushes out for this. The puff is sufficient.
It smells good… this is usually the case for Etude House / Laneige / Tonymoly products.
It feels light on the face. Yup, I actually forget I have anything on when I use this.
It's got SPF 50+ — that's pretty high for BB Cream!
The color matches my skin tone perfectly.
I love the glowing yet natural-looking finish.
The price is okay at P998. It even went on sale for 20% off last September. You'd think it's cheaper than Laneige but it's about the same since Laneige's P1,950 version comes with a refill, so it's like P975 each. If you don't have 2k to shell out though, this is more convenient to buy.
Downside? None really. It is a bit more expensive compared to tube-type BBs but I like the convenience of not having to use my fingers.
Etude House Precious Mineral Any Cushion is available for P998 at all Etude House stores nationwide. Log on to http://www.etudehouse.ph/ for a complete list.
Like this post? Subscribe to this blog by clicking HERE.
Let's stay connected: