I was in the middle of The Sexy Chef Detox Plan when I attended the Etude House Magic Any Cushion Launch at Tous Les Jours in SM Jazz Mall.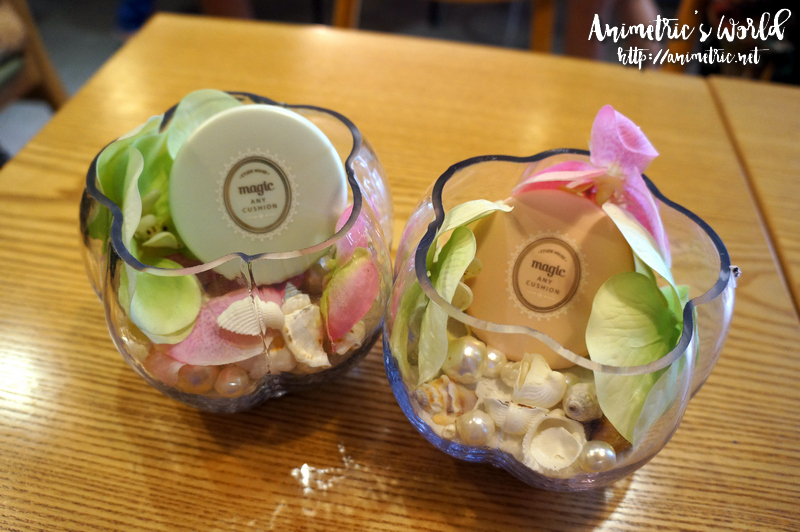 I was actually steering clear of events that particular week because resisting food was hard enough, but to resist Tous Les Jours goodies? Aaargh, the things I do for the sake of beauty. I can never resist Korean beauty products and so I decided to soldier on. Yes, we were served sweet and savory treats in time for high tea. Would you believe I did not touch anything?
When I first heard of Etude House Magic Any Cushion, I thought it was a compact BB like the Etude House Precious Mineral Any Cushion I reviewed some time ago. Turns out it's not. It's better — Etude House Magic Any Cushion is actually a compact CC.
A makeup artist from Etude House Korea showed us how to use the Etude House Magic Any Cushion.
She made up the model rather quickly.
Doesn't she look like she has no makeup on? Her skin just looks supple. It's a very fresh look that's perfect for summer. I asked the Etude House reps if Etude House Magic Any Cushion can be used alone, and they said yes, although they used it as a base with the model here.
I got to take home the magic of course. This will be my 5th CC Cream review… I road-tested Etude House Magic Any Cushion SPF 34 PA++ in Magic Mint.
Etude House Magic Any Cushion comes in three shades: #1 Magic Pink (Bloom Up), #2 Magic Mint (Redness Cover), and #3 Magic Peach (Brightening Dull Skin Tone).
For today, I'm reviewing Magic Mint.
The sponge inside the compact is actually mint green in color.
It's got an instant whitening effect as you can see on this swatch.
My face is naturally pinkish/reddish and so I was really looking forward to trying this product in Magic Mint. As you can see from the before and after pics above, it was quite successful in toning down the redness and evening out my skin tone. That was all I used in these photos — no BB or foundation on top of Etude House Magic Any Cushion.
Here's how it looks under natural light by my window.
What I like about Etude House Magic Any Cushion SPF 34 PA++:
Feels light on the face plus it has a cooling sensation that's so fitting for this hot summer weather. Doesn't feel like you have anything on.
Neutralizes my face's pinkish red tones and evens everything out.
Brightens my skin instantly.
Makes skin look dewy and supple.
Has SPF 34 PA++ so it can provide sufficient sun protection.
Can be worn alone or underneath BB cream or foundation.
Love its light and pleasant scent.
Downside? If your skin is darker-toned, it might be too light for you because it has a whitening effect. The coverage is translucent too, so all this particular variant does is neutralize redness or overly pink tones — not cover flaws or blemishes.
Etude House Magic Any Cushion is available for P998 at all Etude House stores nationwide. Log on to http://www.etudehouse.ph/ for a complete list.
Like this post? Subscribe to this blog by clicking HERE.
Let's stay connected: