I love Korean beauty products. They're reasonably priced in general and they deliver what they promise. This is especially true in the case of Etude House. Etude House products are sold here in the Philippines at prices close to the Korean SRP (Suggested Retail Price). Anyhow, the good folks over at Etude House Philippines sent over a few products for review a couple of months back. Most of them were for the eyes. Unfortunately, I caught sore eyes from our helper and it lasted for nearly a month! As a result, I could not use any eye make-up for the duration… which is why this review is horrendously delayed. So anyway today I try out the Etude House Drawing Show Creamy Liner (P498).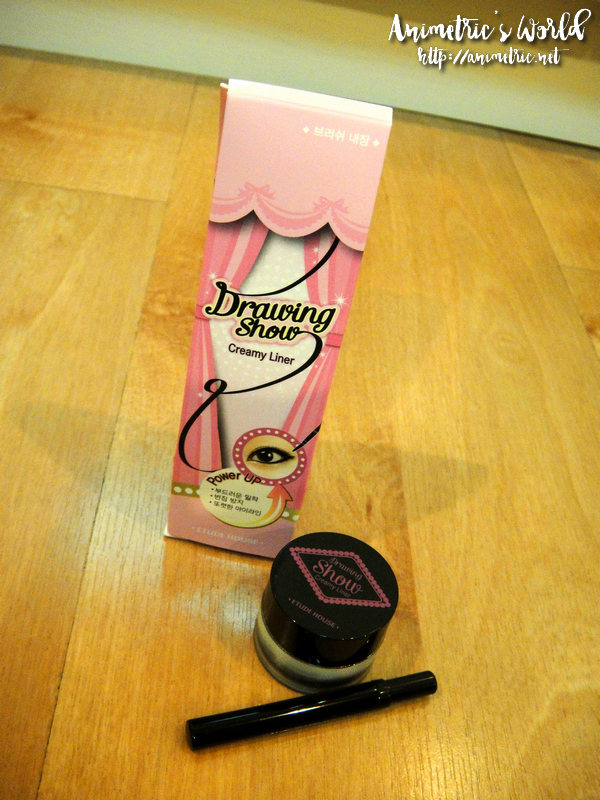 My ophthalmologist recently gave me the go signal and so I'll proceed with my review of the Etude House Drawing Show Creamy Liner in BK802 Black DoubleShot. First thing that caught my eye was the oh-so-cute pink packaging. Opening it revealed a small jar with a matching brush.
The jar was filled with a solid black cream eyeliner while the brush comes with a cap so you can cover it after use.
Here's a look at the brush. I was wondering why it wasn't the usual angled eyeliner brush but there's a good reason for that which I will explain in a bit.
I did a test swipe on my hand. Wow, the pigmentation is phenomenal — it's a really dark and dramatic black. A little product will definitely go a long way.
So let's start with the basics — a face with BB cream, concealer under the eyes, and eyebrow pencil to fill in the brows. Those are what I have on in the photo above.
This is by far my favorite quick and natural make-up look when I'm in a rush (which is 80% of the time). I dust the lower lid with light pink eyeshadow, the crease with dark pink eyeshadow, and blend some champagne colored eyeshadow as a highlighter from the top of the crease to the browbone. Then I curl my lashes. It's important to curl before you apply eyeliner or else the liner may smudge against the curler. Apply the Etude House Drawing Show Creamy Liner very closely to upper lid, flicking upwards toward the end for a slight wing tip. The free brush is amazingly a lot easier to use compared to the angled liner brush in my own brush set.
Open your eyes and voila! It instantly looks more awake and defined. I haven't even put on mascara yet. It's even better after a few coats of mascara on the upper lashes. This eye look takes about 5-8 minutes per eye. I forgot to take a photo of my whole face with this eye look… but at least you can see how nicely and neatly Etude House Drawing Show Creamy Liner defines the eyes.
What I like about Etude House Drawing Show Creamy Liner:
It's surprisingly easy to apply. The brush and the cream glide against your lids pretty smoothly.
The consistency is just right. It's neither too thick nor too thin and it's not sticky.
The pigmentation is top-notch — you get a true, solid black in one swipe.
It stays put even after you party. I wore it all night when we went out with friends (left at around 6pm) and it looked exactly the same as the moment I left the house several hours later (got back midnight).
It's versatile — you can create both natural and dramatic looks with it.
The price is very reasonable at P498.
Downside? If you leave the jar uncovered the product will dry up very fast. Also, you may have trouble applying it if you have shaky hands. There's little room for mistakes given its color and consistency.
Etude House Drawing Show Creamy Liner comes in four colors. It's available for P498 at all Etude House stores nationwide. You can check Etude House's store locations at http://etudehouse.ph/.
Like this post? Subscribe to this blog by clicking HERE.
Let's stay connected: