Sometime ago I got this cute pink box from Etude House Philippines. When I opened it, there were a pair of sunglasses and two lipsticks. Today I will be sharing my review of Etude House Dear My Blooming Lips Talk.
Etude House Dear My Blooming Lips Talk lipsticks are available in three formulations: Matte, Cream, and Chiffon. I got two shades of Chiffon. Consider it as what's in between matte and cream.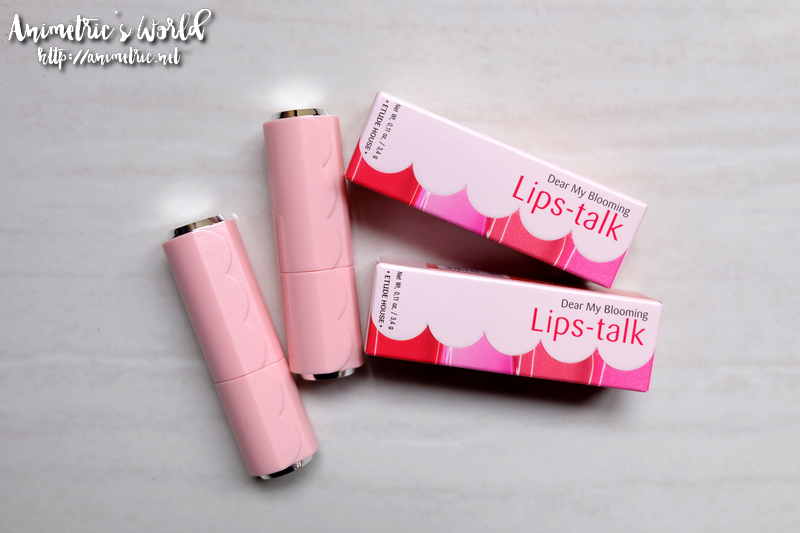 As is always the case with Etude House lipsticks, the tubes have a very distinct design.
I got shades PK026 (Pink) and BE109 (Beige).
Here are swatches.
This is BE109. It's not really Beige, it's more of a peachy orange I think. I'm not particularly fond of orange shades.
This is PK026. I like it better than BE019.
Here are both lipsticks when worn indoors under artificial light.
What I like about Etude House Dear My Blooming Lips Talk Chiffon:
They smell and taste like fruity candy. They're so yummy!
They glide on smoothly.
The pigmentation is exceptional. They deliver the solid color of matte lipsticks but they're not drying.
There are several shades to choose from.
They're reasonably priced at P478 per tube.
They're long-lasting!
This is my photo 6 hours after I applied the lipstick. I had high tea at Marco Polo Ortigas. I ate sandwiches, pastries, and then drank lots of tea. The color is still very much there!
Downside? If you apply these lipsticks on chapped lips they will emphasize the dry skin. I suggest exfoliating your lips with a scrub and moisturizing with a lip balm prior to application.
Etude House Dear My Blooming Lips Talk Chiffon is available for P478 per tube at all Etude House counters and boutiques nationwide. Log on to http://www.etudehouse.ph for a complete list of stores.
Like this post? Subscribe to this blog by clicking HERE.
Let's stay connected: