My natural hair color is black… as in pure jet black. I remember trying to color it when I was in college only to end up with a non-obvious dark brown shade. My hair is so black that even salons back then would have a tough time changing its color. This is one of the reasons why I find Korean and Japanese home hair coloring kits so amazing. I've managed to lighten my hair in just one step using those products. But lighter hair needs lighter brows… and that's where Etude House Color My Brows comes in.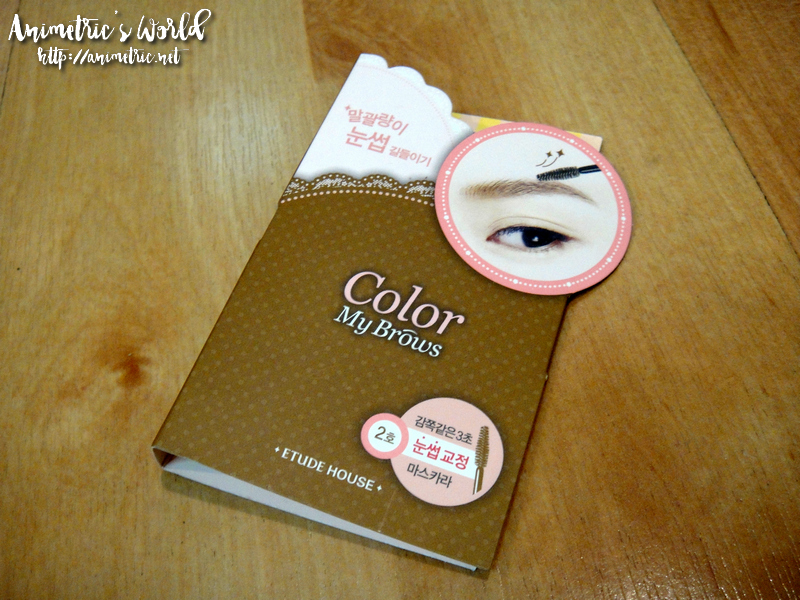 Etude House Color My Brows in #2 Light Brown (P348)
One thing I've never done is dye my eyebrows. Weird right? My hair color has gotten so much lighter but I'm still stuck with the same black eyebrows. I just fill them in with brown pencil or use brown eyebrow mascara. My hair is pretty light-colored right now since I just used Palty all over when I realized I had a light-colored Etude House Color My Brows in my drawer. It was actually sent to me last year but I felt it was too light so I did not use it. But with my hair now it seemed perfect!
Etude House Color My Brows in #2 Light Brown (P348)
Etude House Color My Brows comes in a tube that's smaller and shorter than a regular mascara tube. In fact I mistook it for a sampler but it's actually the full-sized product. It comes in 5 shades:
#1 Rich Brown
#2 Light Brown (this is the one I have)
#3 Red Brown
#4 Natural Brown
#5 Blondie Brown
The shade I got #2 Light Brown is actually the second lightest shade, #5 Blondie Brown being the lightest.
The applicator wand resembles that of a mascara's. The color is quite light and kind of metallic so I was iffy at first.
I'm so glad I gave it a chance. Check out my before and after application photos above! It's very easy to use, I just waved the wand on my brows following its natural shape and then blended a bit with a spoolie.
I think it goes nicely with my current hair color!
What I like about Etude House Color My Brows:
OMG it's such an awesome product and it's sooo cheap at P348! My usual eyebrow products cost P500+ and up.
There are 5 available colors so you can sport eyebrows to match whatever color your hair is at the moment.
It's easy to use! All you have to do is follow your brows' natural shape and then brush into place to blend with a spoolie.
It stays on until you take it off!
Downside? None! I've been using this a lot for the past 2-3 weeks and I've been very very happy with it.
Etude House Color My Brows is available for P348 per tube at all Etude House counters and boutiques nationwide. Log on to http://www.etudehouse.ph for a complete list of stores.
Like this post? Subscribe to this blog by clicking HERE.
Let's stay connected: