Etude House has always been a brand I relate to all things cute and pink. Their newly launched Etude House Berry Delicious Collection is no exception!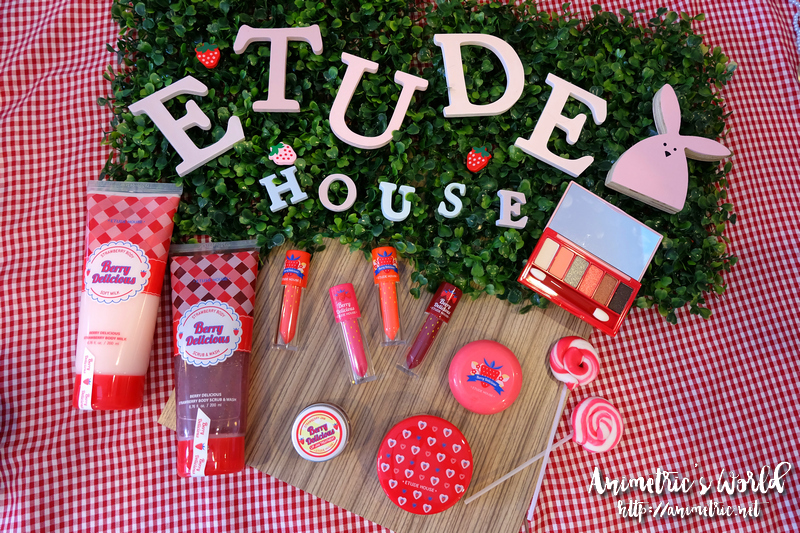 Everything is pink and red — inspired by strawberries! Old Etude House favorites like the Precious Mineral Any Cushion and Curl Fix Mascara get the Berry Delicious treatment but there are also new products like the Etude House Berry Delicious Body Milk and Body Scrub. Let's go through the Etude House Berry Delicious collection, shall we?
Berry Delicious Color In Liquid Lips (P598)
A moisturizing strawberry-inspired liquid lip color collection, it comes in a total of eight (8) fruity shades (including green, wow!) although I only saw 5 at the launch.
They're applied via an angled sponge-tip applicator.
Berry Delicious Fantastic Color Eyes (P848)
Two versions of berry-inspired eye shadow palettes, each with six (6) colors each. I like the handy size of the palettes — great for bringing along when you travel!
Berry Delicious Body Milk (P528)
Berry Delicious Scrub & Wash (P528)
These smell soooo yummy! The body milk has the scent and consistency of yogurt. It moisturizes the skin without leaving it greasy. The body scrub contains strawberry seeds and doubles as a body wash so you can cleanse and exfoliate at the same time.
Berry Delicious Cream Blusher (P548)

Available in three (3) shades, these moist cheek colors leave your skin looking flushed. Very pigmented and blendable, they smell like strawberries too.
Berry Delicious Precious Mineral Any Cushion (P1,098)
This is actually the same Etude House Precious Mineral Any Cushion I reviewed a few years ago in cute strawberry-inspired packaging. Thumbs up from me since I prefer my BB in cushion form vs tube form.
Berry Delicious Lip Jam Treatment (P428)
Okay I'm excited… I have a feeling this is like the Laneige Lip Sleeping Mask but at half the price haha! There is also a Berry Delicious Lip Jam Scrub at the same price but I wasn't able to take a photo of it.
Berry Delicious Lash Perm Curl Fix Mascara in Black (P728)
Here's another revitalized existing product, the Etude House Lash Perm Curl Fix Mascara, which I've also reviewed before. The good news is it now also comes in a brown shade called Strawberry Choco Fondue (not in photo).
The Etude House Berry Delicious Collection has nail polish too (forgot to snap a photo), Berry Delicious Play Nail (P178 each).
Thank you so much Etude House Philippines for having us!
The Etude House Berry Delicious Collection is now available at all Etude House counters and boutiques nationwide. Log on to http://www.etudehouse.ph/ for a complete list of stores.
Like this post? Subscribe to this blog by clicking HERE.
Let's stay connected: