Living in a hot and humid country like the Philippines makes cooling products more of a necessity rather than an indulgence. This is especially true during the summer months! It gets so hot sometimes I just feel like diving into a pool and staying there. If there's one thing that's really handy when the temperature is hot, it's face mist.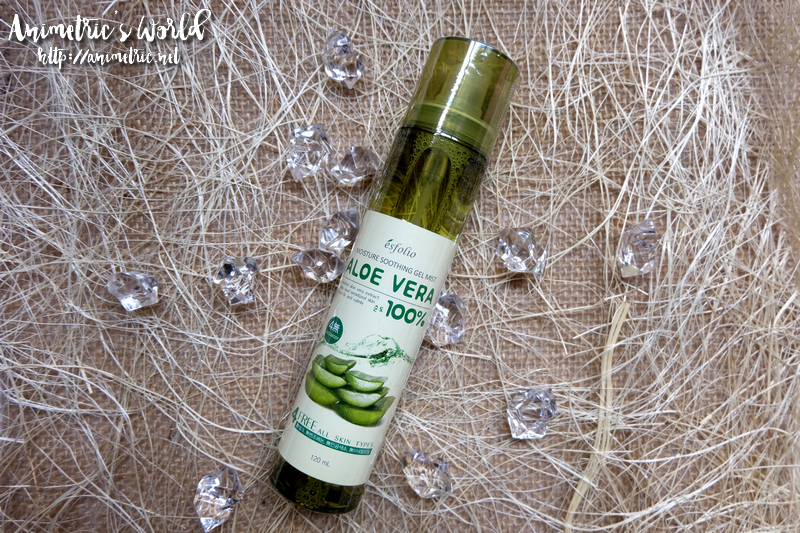 For today, let me share one of my recent discoveries — Esfolio Aloe Vera Moisture Soothing Gel Mist (P399).
It comes in a sleek lightweight spray bottle which contains 120ml of product. Here's a plus — it's formulated with 100% aloe vera. Now aloe vera is known for its anti-inflammatory and healing properties, especially for the skin. This product promises to both soothe and moisturize the skin.
Though it's a gel mist, the consistency is quite close to water.
I tried spraying it all over my face after cleansing.
Then I patted it onto the skin.
Whoa, my skin really did feel refreshed and moisturized. I didn't layer on any more products except sunscreen afterwards. Lol this is by no means a complete skincare regimen but I wanted to gauge its effects without interference from other products. That said, this is best used right before makeup (it'll make makeup adhere better) or way after makeup to refresh your look. When I'm in for a long day (meaning I'm on the go from morning till night), I spritz on facial mist midday to freshen up. I do that on top of makeup then gently blot away the liquid with facial tissue. Instant freshness!
What I like about Esfolio Aloe Vera Moisture Soothing Gel Mist:
It's lightweight and easy to carry around in my bag.
It has a nice, light, and fresh scent.
You can spray it on everywhere, not just the face. During hot days I even spray it on my neck and arms.
Give a shot of freshness and moisture when needed.
Feels nice on the skin.
Esfolio Aloe Vera Moisture Soothing Gel Mist is available for P399 at http://www.esfolio.ph.

Here's the good news. I'm giving away an Esfolio Moisture Soothing Gel Mist along with twenty (20) other products inside this Esfolio Surprise Box! What you see here is just a preview. There are a lot more underneath! The value of this box is approximately P4,500.
This is the 3rd leg of my 9th blogversary giveaways. You will have to go to https://www.instagram.com/p/BeuTdZdj8Xe/ for the giveaway mechanics since it's easier to monitor entries there.
Like this post? Subscribe to this blog by clicking HERE.
Let's stay connected: