Since it was a national holiday yesterday, we decided to drive to Tagaytay. The Tagaytay LGU issued a memo saying that those who are 5 to 17 years old are allowed to dine in so we took both kids with us. We went to Escala Tagaytay for breakfast. We wanted to avoid the holiday lunch crowd so I suggested that we go early for breakfast instead. That way, there wouldn't be too many people and it would be less congested driving back to Manila by noon. We're still not up for staycations given the COVID-19 situation so we usually do day trips.
We arrived at Escala Tagaytay around 8:15am. Breakfast and all other meals are served at the Bellissima Restaurant near the entrance. There were maybe two other tables occupied but they were quite far from where we were seated. The restaurant is open air so you get to enjoy the cool Tagaytay breeze while eating.
This is the Bellissima Restaurant in its entirety, shot from the viewing deck outside. It's quite spacious and you're not allowed to sit face-to-face. The 4 of us occupied 2 tables for 4 that were joined and we sat in a zigzag pattern.
The breakfast menu is pretty simple, there are about 8 menu items to choose from. Whatever you choose, you'll get free bread and fruits plus an unlimited drink of choice — brewed coffee, hot chocolate, or juice. Most of the breakfast items cost P495.
I ordered the Eggs Benedict (P495). You get to choose between salmon or bacon, I picked bacon. Anyhow, the serving size is HUGE. Poached eggs on top of toasted buns with hollandaise sauce and bacon are served with roasted vegetables and salad on the side. They use honey mustard dressing on the salad which I found overwhelming since th hollandaise sauce is already very rich. I think a fruity vinaigrette would work better. Anyhow, I loved the eggs benedict and the fresh crisp veggies. I was so full midway that I couldn't finish the salad.
Hubby opted for the American Breakfast (P495). Bacon, sausage, 2 eggs your way, pancakes, and waffles make up this platter. He said the pancakes were really good. Breakfast is worth it because P495 is all-in, they don't charge additional service fees.
This is the view from where we were seated. The place is well-ventilated and cool which is great. They close the viewing deck access when it rains.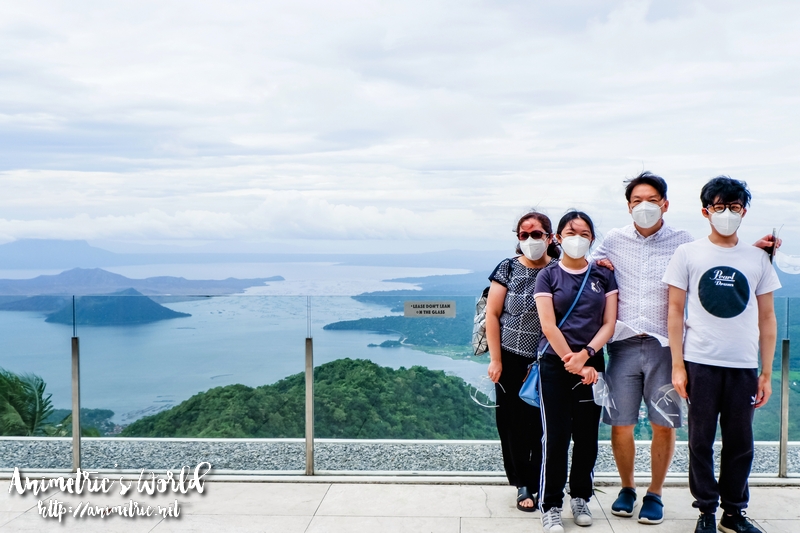 Luckily, it wasn't raining when we were there so we got to go to the viewing deck and take in the spectacular view. It was very windy (our face shields would get blown away) so pardon our unkempt hair. We only remove our masks to eat since we want to stay on the safer side. Hopefully the time will come when we can take family photos outside our home maskless again.
I suggest going on a weekday so it won't be crowded. We were told the restaurant is really full on weekends. You can make reservations so you'll be sure to have seats.
Escala Tagaytay
Purok 102, Poblete St.,
Barangay Maharlika West, Tagaytay City
859-1444
Like this post? Subscribe to this blog by clicking HERE.
Let's stay connected: