Hubby and I finally got to try Eri Curry, a newly opened Japanese curry place at SM Megamall, last Wednesday. We were both famished and so it was the perfect time to each have a full curry meal for lunch!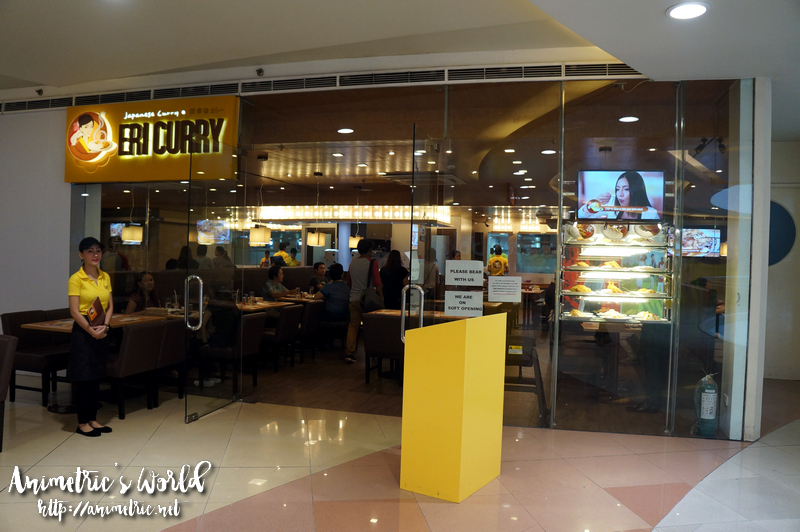 Eri Curry is located at the 3rd level of the Mega Atrium.
I liked the simple, neat, and cozy interiors.
At Eri Curry, the first step to an unforgettable curry meal is to:
Choose your curry plate. There are over a dozen varieties, the most affordable being Eggplant Curry at P155. I opted for Spinach with Bacon and Butter Curry.
Choose your rice quantity: Small 200g (-P30), Regular 300g, or Large 400g (+P30). You read right. If you opt for less rice, your curry price goes down by P30. More rice? Add P30.
Choose your level of spiciness: Just Right, Spicy, or Fiery.
Customize your curry by choosing toppings. There are over 15 kinds of toppings to choose from ranging from Beef Chunks (P125) to Quail Eggs (P65).
I chose Spinach with Bacon and Butter Curry (P265) with Regular Rice, Just Right level of spiciness and Mushroom (P90) + Asparagus and Tomato (P80) as toppings. My order came out to P435 — it's a complete meal in itself! Eri Curry's curry is made fresh daily and wow, I was so amazed by the taste. It's not the usual spicy curry, it's got a fruity undertone because part of its preparation involves stewing fruits! It's sooo good. Since my order had butter, it was extra rich and smooth. I finished the curry to the very last drop. I find that I usually can't manage to eat an entire order of curry but Eri Curry had me cleaning up my plate, lol! Here's a little secret: there's melted mozzarella cheese in the sauce! I think it balances the curry flavor nicely.
I also love that they have a container full of pickled radish on every table so you can have as much as you like. Most of the time, I find the amount of pickled radish served with Japanese curry lacking so this is great!
I had fresh Mango Banana Shake (P95) with my curry meal. The creamy sweet-tart taste of the shake complemented the curry very nicely.
Hubby had Fried Shrimp Curry (P350) with Regular Rice, Just Right level of spiciness, and Spinach, Bacon, and Corn (P80) as topping. His order came out to P430.
He had a fresh Grape Shake (P125) which was really cool and refreshing.
For dessert, we shared an order of Rainbow Kakigori (P190). Kakigori is a Japanese shaved ice dessert and this one is flavored with Blueberry, Strawberry, and Green Apple syrup. There's some sweet red beans (azuki) on top too. If you dig through it you will find a big scoop of delightfully creamy vanilla ice cream with more azuki in the center. Delicious! It's actually good for 2-3 people because even as hubby and I shared we couldn't finish one serving. I liked that it wasn't overly sweet and it's a great way to cap off a curry meal.
We loved Eri Curry. The place is nice and cozy, prices are reasonable, service was pretty fast and efficient plus the curry is really really good. We'll definitely be back with the kids because I'm sure they'll love it!
Eri Curry
3rd Level Mega Atrium
SM Megamall, Mandaluyong City
0917-8212305
Like this post? Subscribe to this blog by clicking HERE.
Let's stay connected: