From UL Skin Sciences (Unilab) comes a new skincare brand formulated especially for sensitive skin — EQUIVA. EQUIVA products are hypoallergenic and have a pH level of 5.5, which is the pH level of normal, healthy skin. They are also free from sulfates, parabens, and fragrance. There are currently 3 products under this brand — Gel Cleanser, Micellar Water, and Moisturizing Facial Mist.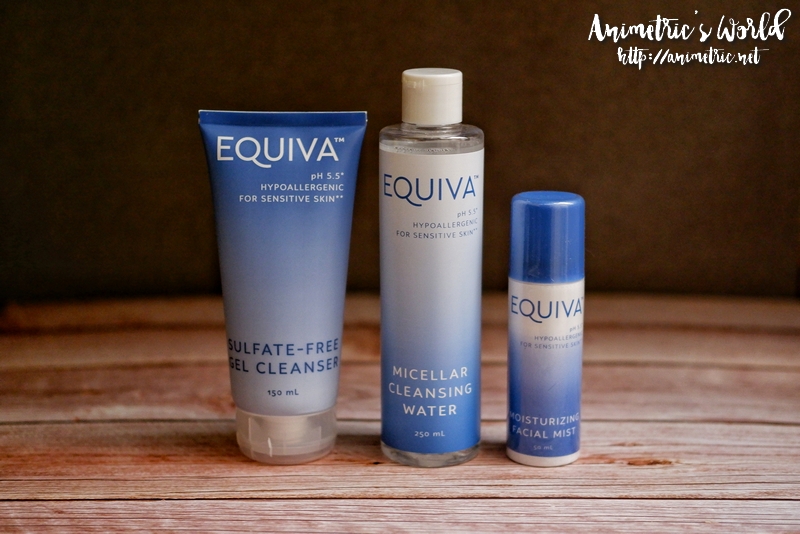 From May 3-8, EQUIVA products will be discounted at 30% off the SRP. It's a good time to try if you're in the market for products that cater to sensitive skin.
I tried the EQUIVA Sulfate-Free Gel Cleanser. It's a clear, water-like gel that lathers up quite nicely. It cleans the skin without drying. I like that there is no tight feeling after washing with this. There's really no scent too.
I also tried the EQUIVA Moisturizing Facial Mist. I felt a slight stinging sensation when I used it. Checking the ingredients, I saw that it contains Witch Hazel, which is used to treat pimples and reduce oiliness. I suggest putting this in the refrigerator for a more refreshing skin misting experience. This is good for people with oily skin because of the Witch Hazel. My skin hovers between normal and dry so I hope they release a variant without the Witch Hazel.
There's also an EQUIVA Micellar Cleansing Water which I have not yet tried. It gently removes makeup, cleans, soothes, and hydrates sensitive skin. This is a rinse-free alternative to cleaning your face if you don't have access to a sink. Micellar Water is also good for removing sunscreen as facial washes usually can't get it off completely.
Do check out the UL Skin Sciences Flagship Store on Lazada for EQUIVA products at 30% off. EQUIVA is exclusively available online.
Like this post? Subscribe to this blog by clicking HERE.
Let's stay connected: