I accepted the Enervon 14 Days of Happy Challenge some 3 weeks ago. It was very timely because that was the week when my hubby had to undergo dental surgery. That meant I was on my own when it came to driving duties. It was also the week when my son had to work in SM Supermarket as a school activity. That meant more driving than usual. I was really going to need all the energy I could get.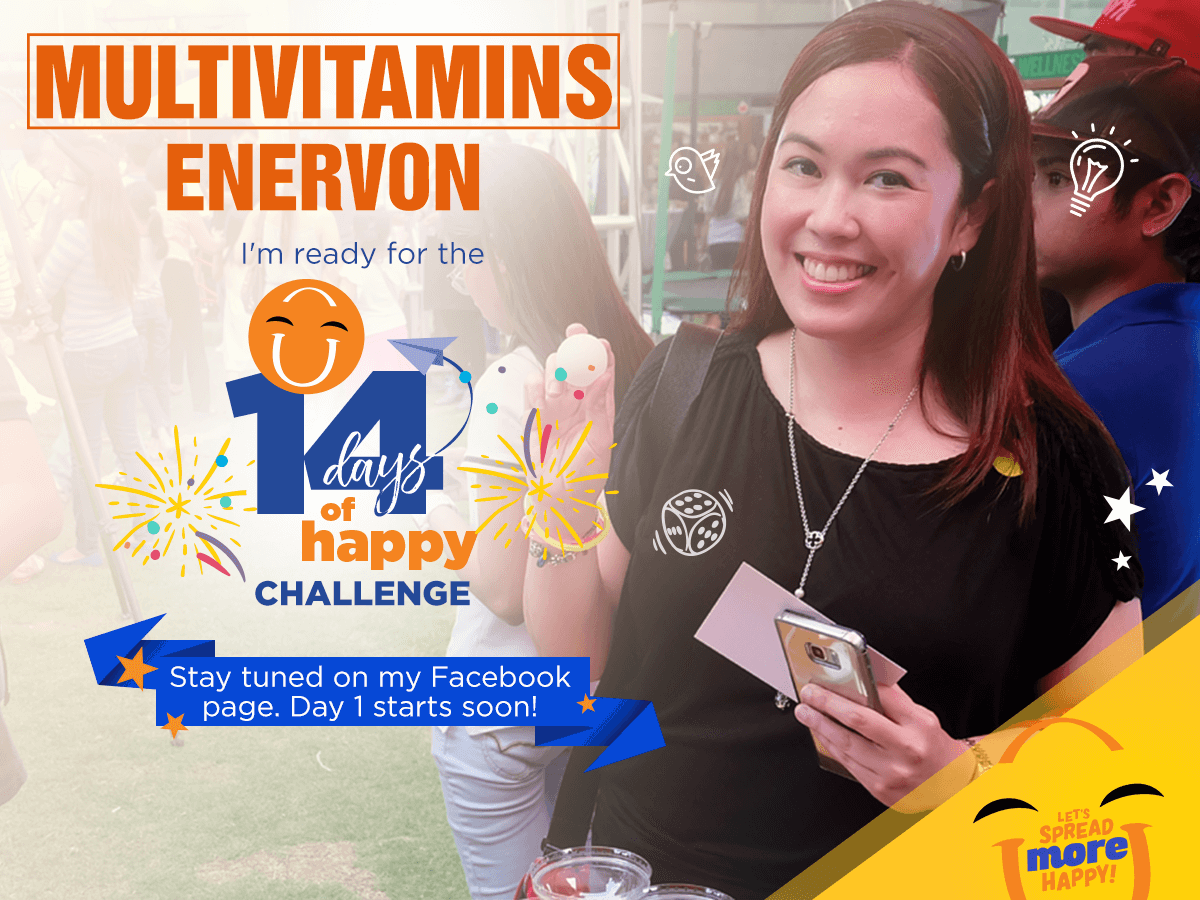 I documented the entire challenge on my Facebook Page. Just so we're clear, Enervon is a nutritional supplement that helps promote increased energy and an enhanced immune system. The recommended dose is 1 tablet a day.
I started last August 3, one of the most challenging days of my life. I start with the usual bringing my daughter to school at 6am. Then I bring my son to SM Megamall, go to a meeting at Eton Centris, fetch my daughter from school, fetch my son from SM, take them both home, then proceed to a work-related dinner in Makati before finally going back home to QC. The schizo weather was not helping! It was really the best day to start the #14DaysWithEnervon challenge. I was so happy when the day was finally done at about 11pm. Still had some energy left to unwind with a few online games before going to sleep.
Day 2 of the challenge was still filled with driving duties. I had to pick up my son from SM Megamall during rush hour almost every single day that week.
Did you know that the Enervon tablet has a slightly sweet and smooth outer coating that makes it easy to swallow?
Looking back at how hectic my schedule was during the Enervon 14 Day Challenge, I really believe taking Enervon daily helped keep me active and well. Yay to no sickness despite extreme fatigue and lack of sleep! It's surprisingly affordable at P6+ per tablet too.
I would even bring Enervon to the office just in case where I sometimes have breakfast.
I often take Enervon in the morning after breakfast. After my most trying week, I was still running around the nth day perfectly well. No sniffles, no sore throat… Enervon really boosts your immune system so your resistance is at its peak.
I always make it a point to put a tablet or two in my bag just in case I forget to take it in the morning. We all could use some extra energy yes?
I even brought it to a morning shoot, the start of another long day.
There was a time I forgot to take Enervon in the morning. I remembered during a Korean BBQ dinner with friends lol. Good thing I had a tablet in my bag. It was perfect. We were catching up over coffee after dinner so I needed extra energy to keep up.
I'm happy to report that in no time during the Enervon 14 Day Challenge did I get sick, despite all the days of not getting enough sleep. I seriously felt like a superwoman going and going from 6am to the late hours of the night almost every day. I was able to accomplish everything I set out to do and then some. I've even managed to not look harassed while I'm at it lol.
Enervon is available at all leading drugstores nationwide. Spread some happy and send up to five (5) special people Enervon Happy packs for FREE! Just log on to http://www.enervon.com.ph/lets-spread-happy/.
Like this post? Subscribe to this blog by clicking HERE.
Let's stay connected: