I'm always hanging around Althea these days… which isn't really good for my wallet. I keep finding stuff to buy! It hasn't been a month since my first purchase and I've already bought 2 more boxes of products. Since I'm buying all this stuff, might as well share and review them… right? Anyhow, I think I've found the perfect solution for excessively damaged hair like mine. The Elizavecca Collagen Hair Perfect Solution is a 2-step treatment regimen that yields salon-level results. I'm not even exaggerating, lol.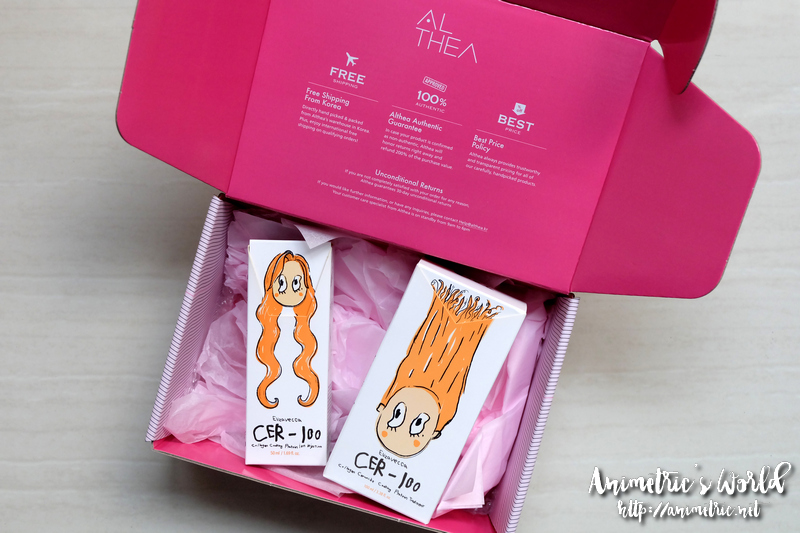 I color my hair frequently. I also have it "altered" every year. It's the price I have to pay for being born with coarse, thick, and unmanageable wavy hair. That said, my hair is really quite damaged. In fact I can't comb it if I don't use conditioner. I saw the Elizavecca Collagen Hair Perfect Solution set on sale at Althea for 74% off and placed them in my cart along with my other stuff.
There are 2 products in the set which you have to order separately. First is the Elizavecca Collagen Ceramide Coating Protein Treatment (P290). Whut… P290??? Yup. You know how those Kerastase hair care products cost a few thousand pesos right? This promises more or less that level of hair care at what… less than 1/10 the price? How could I resist?
This product is Step 1. You use it in place of conditioner after you shampoo. Then you leave it on for 5 minutes and rinse off.
After you do the first step, dry or wait for your hair to dry. Take the Elizavecca Collagen Coating Protein Ion Injection (P300) and apply to dry hair. It's kind of like a leave-in treatment.
I swear, I was so astounded by the results (more on that later). To think it only cost me a total of P590 (and these tubes are good for several uses). I didn't even have to do anything special. I just washed my hair. Both products are formulated with pig skin collagen, ceramide 3, soybean protein, and allantoin… all good ingredients for the hair.
Here are um… product swatches. The Collagen Ceramide Coating Protein Treatment is just like conditioner — creamy, white, and pleasant-smelling. The Collagen Coating Protein Ion Injection has a lighter, more water-like consistency since it's meant for dry hair application.
See, the leave-in treatment is almost transparent.
So this is how smooth, sleek, and manageable my hair was after using both products in tandem. It smelled so nice too! I could hardly believe I just had a home treatment with products that don't even cost a thousand bucks.
Oh yes my hair was unusually tame and manageable that day. Honestly speaking I hate leave-in treatments because they usually leave a yucky silicone film on my hair. You get none of that with Elizavecca Collagen Coating Protein Ion Injection.
What I like about Elizavecca Collagen Hair Perfect Solution:
The 2-step process is super easy to do. I mean, just wash your hair, condition, dry, and apply leave-in treatment. Kaboom!
Both products have a mild pleasant scent.
Detangles, softens, smoothens, and makes hair super manageable. No frizz too.
They deliver what they promise! I thought the online poster at Althea was exaggerating but no… it's all true. These products work.
They're so cheap right now… marked down by 74%. I dunno for how long. I think I will order extra tubes wahahaha.
The packaging is genius… notice how the girl's hair "grows" when you try to open the box.
Downside? None at all! I love these. Now I don't have to go to the salon for a treatment. These are the ultimate DIY hair treatment products! Get yours from Althea because I dunno where else you can buy short of going to Korea. If ever you're buying, I have a P200 Althea discount voucher HERE.
Like this post? Subscribe to this blog by clicking HERE.
Let's stay connected: