Are you familiar with the US brand Element Mom? Based in Los Angeles, this brand focuses on clean, toxin-free cosmetic products that are safe for both moms and babies. The brand has been featured in publications like Byrdie, Cosmopolitan, and Elle just to name a few. Element Mom is so strict in its formulations that aside from banning the usual silicones, parabens, and phthalates, they've also banned close to 1,500 known toxic chemicals in cosmetics.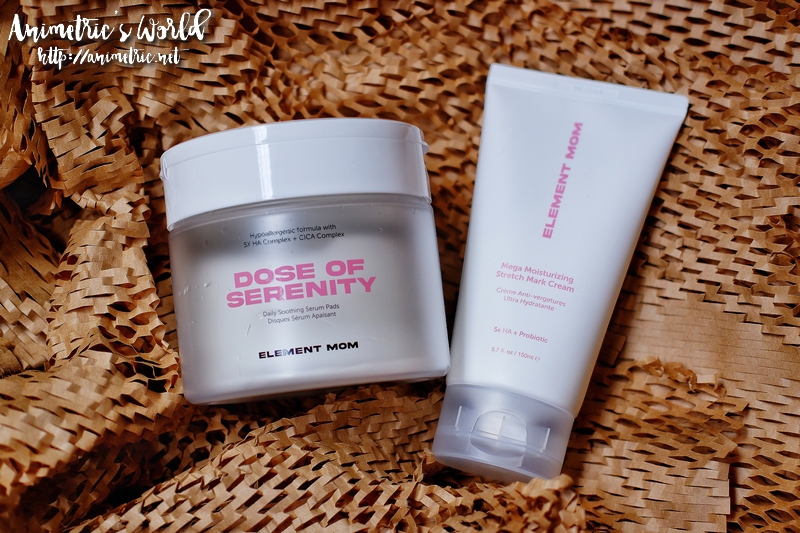 Anyhow I got to try two Element Mom products — Dose of Serenity Serum Pads (₱972) and Mega Moisturizing Stretch Mark Cream (₱1,122). The Serum Pads are for the face while the Stretch Mark Cream is for the rest of the body.
The Serum Pads come with a tweezer so you don't have to touch the pads and possibly contaminate the entire jar. You place them where you need them — your forehead, cheeks, chin, neck… I usually end up using 3-4 pads as to really immerse my whole face. The serum is made of 5 types of Hyaluronic Acid and Triple Cica Complex for hydrating and soothing sensitive skin. You just place them on the skin and let them stay for 2-3 minutes. Just pat on excess serum afterwards. This is used after cleansing. I love how my skin feels after using this — very soft, perfectly smooth and just wow. I keep touching my face after because it feels so perfect! The product doesn't have any perfume, it's almost scent-free actually.
Meanwhile, the Mega Moisturizing Stretch Mark Cream is really excellent as an all-over body moisturizer. I mean, I hate lotion because most of them feel sticky and/or greasy. This one is different — it's a cream so it's thicker than lotion but it's absorbed by the skin very quickly. It leaves no sticky or greasy feeling, just perfectly soft and smooth skin. I love it! My skin tends to get drier during the -ber months and this is just perfect. I apply this at night and I wake up with just really great skin all over.
I'm really impressed with these two Element Mom products I've tried. They have an official store in Lazada and orders ship from Hong Kong. I was able to receive my order in about a week's time though. The above two products I reviewed are available as a set for ₱2,650 though. Element Mom has so many interesting products, especially for pregnant women! They even have sheet masks for the belly that help prevent stretch marks. Do check them out — even if you're not a mom, these products will do wonders for your skin. 😀
Like this post? Subscribe to this blog by clicking HERE.
Let's stay connected: