Both my kids have been plagued by eczema at some point or another. My daughter when she was younger and now my son as an adult. Aveeno has always been one of our go-to skincare brands for them as it effectively prevents flare-ups. It also soothes and moisturizes dry, itchy skin effectively. I used to hoard Aveeno products during trips to the US but they've been pretty easy to procure lately. The Johnson & Johnson Official Store on Shopee carries pretty much everything we need.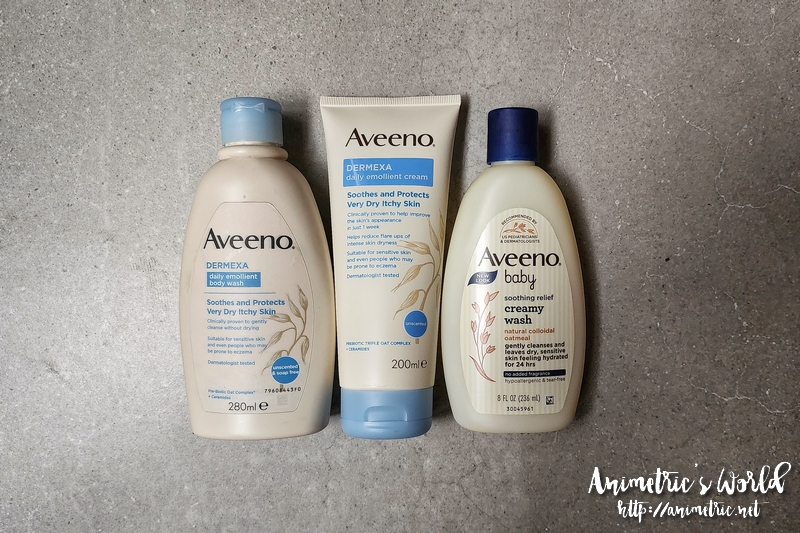 I'm especially impressed by the Aveeno Dermexa line, especially the Aveeno Dermexa Daily Emollient Cream (₱853) which my son has been using to soothe and relieve his itchy and extremely dry skin. The effect is both dramatic and immediate. His skin was red and on the verge of cracking due to dryness but application of this cream made it look more normal right off. I'm pretty sure that with continued use his skin condition will improve more so I'm really happy with this discovery. This cream is unscented, paraben-free, and fast-absorbing. It's formulated with prebiotic Triple Oat Complex and Ceramides. I've always equated Aveeno with colloidal oatmeal ever since my kids were babies because that seems to be their main ingredient. Gosh, this products costs US$22 so this price is a steal.
For younger kids, there's Aveeno Baby Soothing Relief Moisture Cream (₱552). This is especially formulated for baby's sensitive skin, clinically proven to moisturize for 24 hours. It comes with a matching Aveeno Baby Soothing Relief Creamy Wash (₱399) which goes on a Buy 1 Take 1 sale ever so often. Used in tandem, these products keep baby's skin soft, smooth, and perfectly hydrated for 24 hours. Soap-free, tear-free, hypoallergenic, and fragrance-free, it's also free from parabens, phtalates, and sulfates. These are the safest skincare products you can get for baby.
Do check out the Johnson & Johnson Official Store on Shopee for great deels on Aveeno products.
Like this post? Subscribe to this blog by clicking HERE.
Let's stay connected: