We were invited to dine at East Cafe one weekend last month. It's located inside Rustans Department Store in Makati. Prior to that day, I had no idea there was a restaurant inside Rustans Makati… and it has been there for a decade already! Talk about clueless, haha!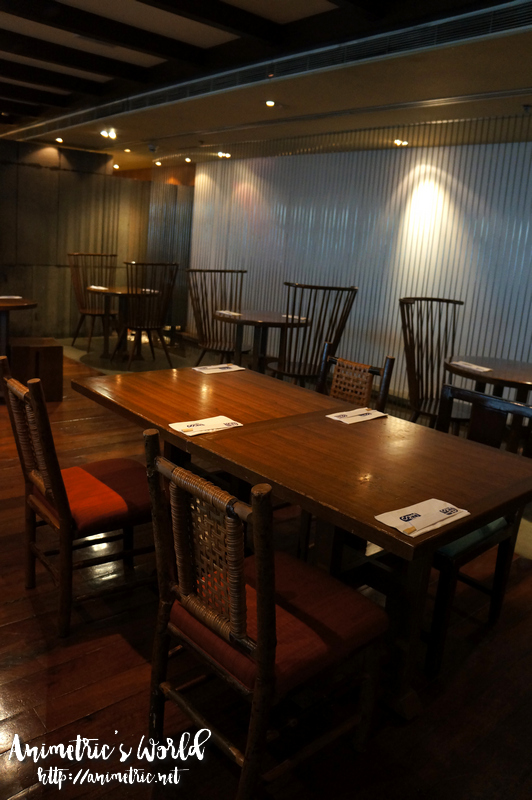 So yeah, at the third floor of Rustan's Makati lies the foodie haven called East Cafe. It's very peaceful here, perfect for collecting your bearings after shopping.
While waiting for our lunch companions, hubby and I ordered some drinks. I had Ca Phe Sira Nong (Hot Vietnamese Coffee with Milk, P125) while he had East Cafe's Iced Tea. Both drinks were good, the coffee had just the right combination of bitter and sweet from the condensed milk while the refreshing iced tea was brewed with a touch of orange juice. I forgot to take note of the iced tea's price unfortunately.
As soon as everyone had arrived, we started with lunch. Shrimp and Pomelo Salad (P240) was served first. It's very light and refreshing as it's composed of mixed greens tossed with poached shrimp, coconut, and Nuoc Cham dressing. Nuoc Cham is a citrus-based Vietnamese dipping sauce that's kind of like a vinaigrette. Thumbs up for this salad!
Next up was Open Faced Chorizo with Grilled Onion Quesadilla. Hubby liked this a lot. Flour tortillas are topped with chorizo pieces, salsa, and cheese. This is a new offering that wasn't on the menu yet at the time. I think kids will enjoy this too.
Then there was Salt and Pepper Ribs (P320). Deep fried pork short ribs are seasoned with salt and pepper. Vinegar for dipping is served on the side. I liked this dish a lot as the pork was very tasty.
We also had Pad Thai Noodles (P260). Hofan noodles are cooked with shrimp, tofu, and peanuts. The taste is both savory and sweet. I would've preferred it to be less greasy though.
Mooshoo Pork (P290) was brought out next. Thinly sliced pork sauteed in soy sauce, peppers, beansprouts, and sesame oil is served with homemade wraps. I found the flavor boring as it tasted predominantly like soy sauce. Suffice to say it was the dish I liked least that day.
Last but not least was Fried Whole Lapu Lapu with Mapo Tofu (P450). Butterflied fresh lapu-lapu (garoupa / grouper) is deep fried and stuffed with mapo tofu (tofu cubes in sweet and spicy sauce). Okay, but I'm not a good gauge because fish presented like this scare me so I'm less inclined to try.
After the army of main dishes were fielded out of the kitchen, an equally diverse group of desserts followed starting with Ube Cheesecake (P205). My goodness, this is really one of the best cheesecakes I've ever tried! It's really pricey though as one small slice costs more than P200. Creamy, tart, and just a bit sweet, it's divine. The ube halaya it's made with goes down smoothly too.
Then there was Tamales (P98 for 30), a Filipino delicacy made of glutinous rice flour cooked in coconut milk. It's filled with coco jam and topped with sliced salted eggs. Interesting, if anything.
Tsokolateng Batirol Tart (P195) looked very promising but I found it too sweet… and the chocolate seemed… shallow(?), meaning the opposite of deep and rich.
Sumaki (P275), chunks of glutinous rice served with purple yam cubes, ripe mangoes, and coco jam was one of the box office hits with the group. The unique mix of tastes and textures from sweet to tart to sticky and chewy was quite a delight.
Suman sa Pinipig (P98) brought more sticky rice goodness to our table. I liked that it was not overly sweet.
East Cafe is a nice, quiet place to chill during or after shopping especially when it gets hectic — like if there's a sale or it's Christmas season. Food is pretty pricey though considering that the servings aren't big. I think it'd make a good date place since you can have long undisturbed conversations and get good service from their very able staff.
East Cafe
3/F Rustan's Makati
Ayala Center, Makati City
813-3739 local 246 / 812-0233
Like this post? Subscribe to this blog by clicking HERE.
Let's stay connected: