*This establishment is already closed. Their Katipunan / White Plains branch is still open though.
The first time I tried Earth Kitchen was during the Lagundi event held at their White Plains branch. I love their concept of serving healthy and organic food.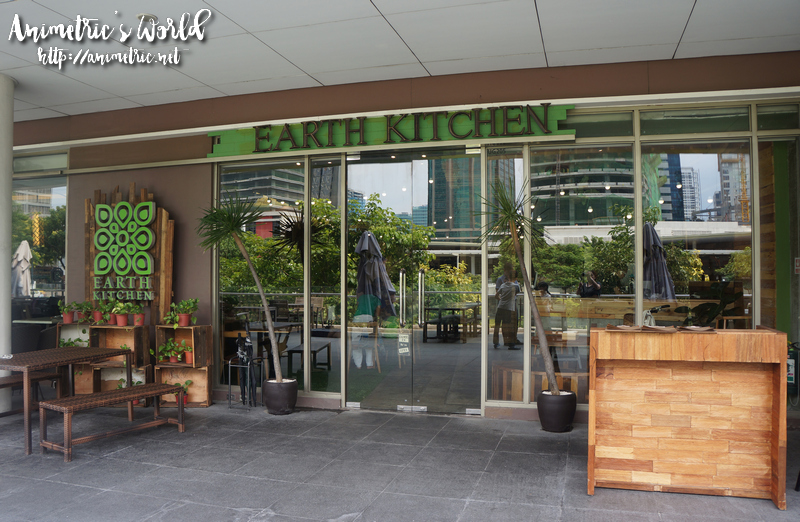 Earth Kitchen opened their second restaurant in Bonifacio Global City recently. We were invited to try it out. I scheduled it on a Sunday when our cook took the day off.
I love the wood-themed interiors.
Got Heart Mix (P200, above left) and Got Heart Mix 2 (P200, above right)
We ordered some healthy fresh-pressed juices to start us off — Got Heart Mix is a blend of beets, carrots, cucumber, apple, and honey while Got Heart Mix 2 is made of pineapple, orange, carrots, ginger, and honey. Got Heart Mix tasted like grass and reminded me of Juju Cleanse. Got Heart Mix 2 is the better tasting version since it's like a really strong orange juice with a kick. The kids couldn't take the heavy duty plant taste of Got Heart Mix but they loved the fruity Got Heart Mix 2.
Beef and Citrus Salad (P320)
I wanted something refreshing so I opted for the Beef and Citrus Salad. Boneless beef ribs, raw papaya, cilantro, peanuts, herbs and greens are drizzled with dayap vinaigrette. I liked the light and refreshing taste but I think it would be better if it had a tad more beef.
Mushroom Soft Tacos (P190 for 2 pcs)
This one is on the zesty sweet-tart side. Soft flour tortillas are topped with shiitake, button, and milky mushrooms, salad greens, radish, seaweed, and then drizzled with lime hoisin sauce. I liked it! The mushrooms are very juicy and I find combining them with crunchy radish a great idea. Vegetarians rejoice!
Fish and Mango (P230)
We also tried one of their bestselling appetizers, Fish and Mango. It's basically a pile of battered loro (Parrotfish) fillet, ripe mango, and cilantro with chili plum sauce. The crunchy fish fillet goes very well with the sweet ripe mangoes and chili plum sauce. The kids couldn't get enough of this dish.
Four Mushroom and Egg Pasta (P385)
Upon the kids' request, we ordered Earth Kitchen's version of the carbonara — Four Mushroom and Egg Pasta. Al dente pasta is served with white sauce and slab bacon, milky, button, and shiitake mushrooms plus organic egg. It's served with lots of parmesan cheese on top. The kids loved it! I found it creamy but not cloying, which is good.
Earth Kitchen Ravioli (P400)
We also had Earth Kitchen Ravioli. I didn't think my kids would be able to appreciate the vegetarian nature of the dish. The ravioli is filled with camote tops, white cheese, pili nuts, and basil cooked in pomodoro sauce and topped with lots of parmesan cheese. Surprisingly they enjoyed it! I like this better than the Four Mushroom and Egg Pasta, if you're having just one pasta dish here make it this one.
Braised Bacon (P580)
My son can't be without a meat dish so we ordered Braised Bacon. It's slab bacon with red cabbage and marble potatoes. The meat is super tender and flavorful you won't need a knife to slice it. The way the red cabbage is cooked reminded me of sauerkraut.
Beef Kebab (P410)
If my son can't be without meat, my daughter can'e be without rice so we also had Beef Kebab. It's a complete meal in one plate with boneless beef ribs, tzatziki (cucumber yogurt dip), grilled vegetables, and organic Ifugao rice (you can actually opt for 3 pcs. of flour tortilla instead of rice). She finished most of this dish, I had a taste and it was yummy.
Tablea Ice Cream (P200)
For dessert, Earth Kitchen is known for their fresh carabao milk ice cream. We ordered two flavors for sharing — Tablea and Goat's Cheese. The Tablea ice cream is served with chocolate chip cookie crumble with a bit of of cream. It has a very deep rich taste but isn't too sweet, just like a cup of tablea hot chocolate. My daughter liked it so much she ate the entire thing, lol!
Guess who finished the Tablea Ice Cream after telling us she didn't want dessert?
Goat's Cheese Ice Cream (P270)
Our other ice cream flavor was Goat's Cheese Ice Cream. It's served drizzled with wild honey and topped with dried figs with candied cashew nuts. This is soooo good — the tartness of creamy cheese ice cream and the mild sweetness of honey, nuts, and figs complement each other perfectly. What's more, there's now gamey goat odor yay!
Thank you Earth Kitchen for having us!
We were super full after lunch but it was a good kind of full — we didn't feel bloated or heavy, just full. I'm guessing it's because we ate a lot of organic veggies, lol. The cozy ambiance is super nice for weekend family meals. There are so many interesting things on the menu it was kinda hard for me to make up my mind which dishes to order. Servings are good for maybe 2 hungry people tops so we ordered a bit more than usual for sharing. Food is on the pricey side considering the price and the serving sizes but we enjoyed the light, clean, and refreshing flavors of the dishes we had.
Earth Kitchen
Upper G/F C2 Building
Bonifacio High Street Central, BGC
Taguig City
961-0572 / 577-9138
Like this post? Subscribe to this blog by clicking HERE.
Let's stay connected: